Marine Products (MPX) was a significant beneficiary of the recreational boating wave following the pandemic. With the recreational boating industry expected to flourish this summer, is MPX the top choice in the leisure industry? Read on...
With the easing of COVID-19 restrictions, recreational boating surged in popularity as people preferred outdoor recreation and quality time with loved ones. With the shift persisting since then and the arrival of summer, major boating company Marine Products Corporation (MPX) is set to thrive.
According to the National Marine Manufacturers Association (NMMA), recreational boating saw a 36% increase in annual economic activity from 2018's $170 billion to $230 billion in 2023. Moreover, the organization anticipates healthy boating participation, with more than 85 million people estimated to participate in water-based activities in the U.S. this summer.
The U.S. recreational boat market is expected to reach $26.18 billion by 2027, growing at a CAGR of 8.26%.
For the quarter ending March 31, 2023, MPX reported record net sales of $118.91 million, up 55.2% year-over-year. This was driven by an increase in the number of boats sold and increased average selling price per unit. Net income arrived at $11.55 million, reflecting an uptick of 63.5% from the same period last year, while earnings per share rose by 61.9% to $0.34.
Despite the ongoing supply chain challenges, the company's robust fundamental positioning should help it perform well. The high spring and summer demand is projected to significantly boost the company's sales, making it an appealing leisure stock purchase from my perspective.
Let us examine some of MPX's key metrics that support this optimistic outlook.
Marine Products Corporation Financial Overview: Rising Net Income, Revenue Growth, and Improved Gross Margins (2020-2023)
The trailing-12-month net income of MPX has followed an upward trend with fluctuating growth rates from September 2020 to March 2023.
Starting with a net income of $15.99 million in September 2020, it rose to $19.44 million by December 2020, marking an increase within the fourth quarter of 2020.
In the first quarter of 2021, MPX's net income climbed further to reach $23.33 million by March 2021, continuing the upward trend from the previous year.
The company experienced more significant growth between March 2021 and June 2021, where the net income jumped to $27.42 million.
Net income steadily rose to $29.02 million by December 2021.
However, a slight drop is noticeable by March 2022, coming down to $27.99 million.
Despite this dip, the net income increased substantially by June 2022 to $32.15 million and continued its surge until the end of 2022, hitting its peak at $40.35 million in December 2022.
From December 2022 to March 2023, solid growth pushed the net income to an all-time high of $44.83 million.
In summary, throughout this period, MPX demonstrated significant growth in net income with several fluctuations. The calculated growth rate from the initial value ($15.99 million, September 2020) to the last value ($44.83 million, March 2023) accounts for approximately 180.30%.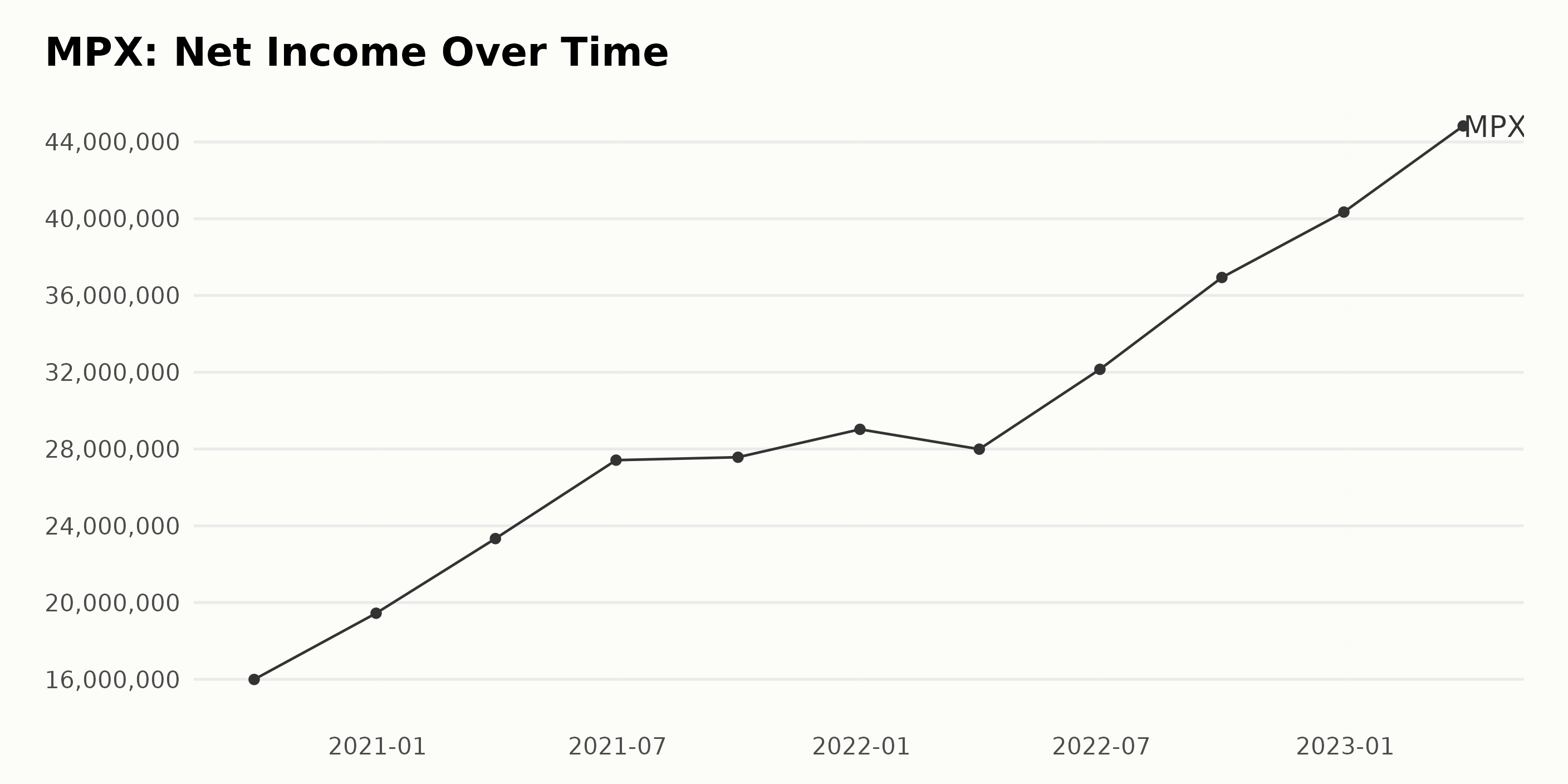 The trailing-12-month revenue trend for MPX from September 2020 to March 2023 roughly displays an overall upward trend with some fluctuations. Here is a summary of the data:
Revenue in September 2020 was $216.89 million.
There was a consistent rise towards the end of 2020, up to $239.82 million in December 2020.
There was further growth during the first half of 2021, with revenue reaching $285.52 million by June 2021.
Revenue slightly increased to $292.58 million in September 2021, then rose again to $298.01 million by the end of the year.
A slight dip occurred in the first quarter of 2022, dropping the revenue to $296.25 million in March 2022.
However, there was significant growth from this point, reaching $349.02 million in September 2022 and ending the year at $380.99 million.
The most substantial increase happened by March 2023, when the revenue surged to $423.30 million.
Therefore, MPX's revenue has grown from $216.89 million to $423.30 million, showing a significant increase. Notably, despite a slight dip in March 2022, the growth rate has generally trended upwards.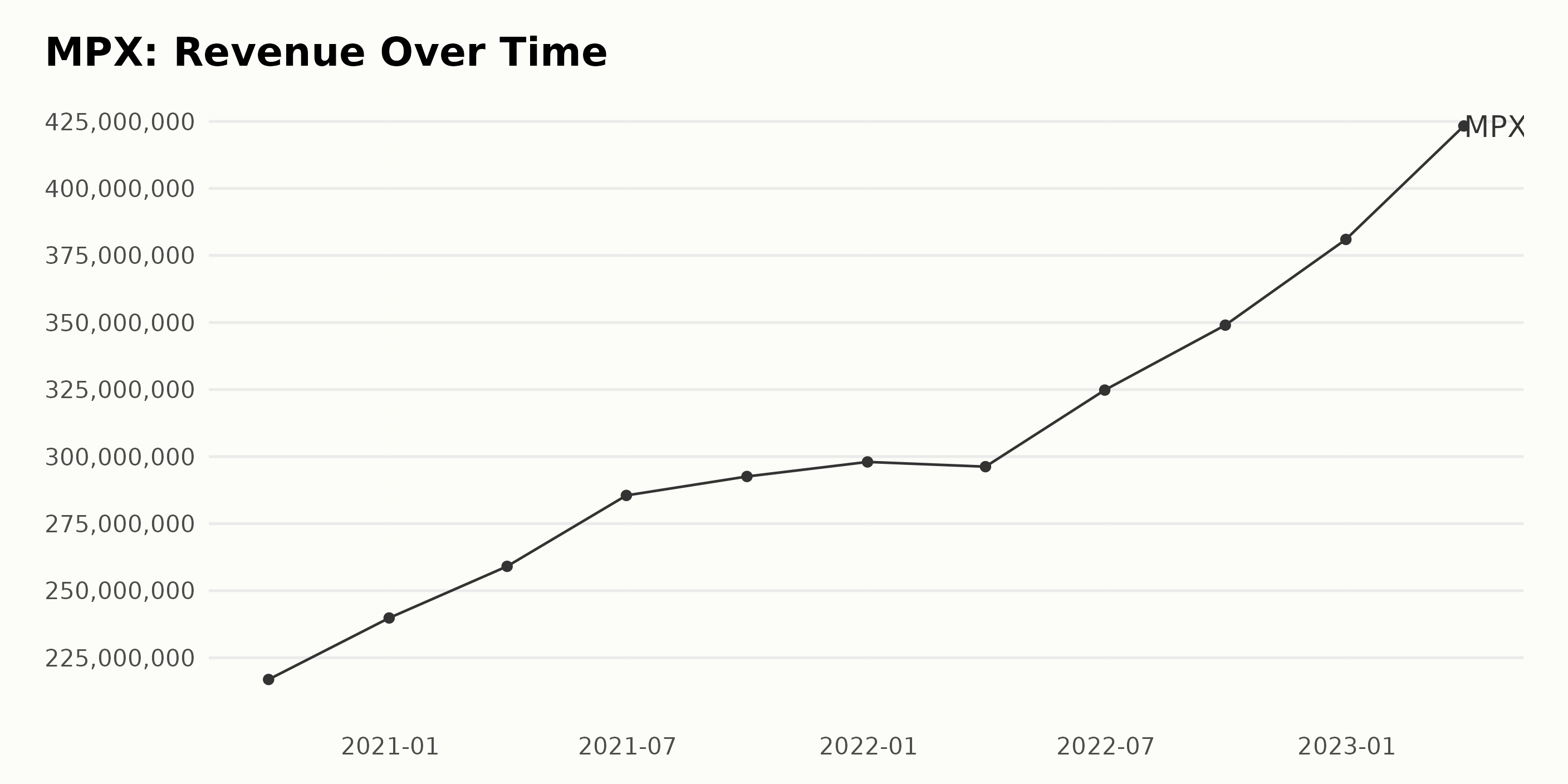 The following data represents the gross margin of MPX from the end of September 2020 to the end of March 2023:
September 30, 2020: 21.50%
December 31, 2020: 22.40%
March 31, 2021: 23.10%
June 30, 2021: 23.40%
September 30, 2021: 22.70%
December 31, 2021: 22.90%
March 31, 2022: 23.00%
June 30, 2022: 23.60%
September 30, 2022: 24.50%
December 31, 2022: 24.60%
March 31, 2023: 24.70%
The trend shows steady gross margin growth over the reported period. From an initial value of 21.5% in September 2020, the gross margin had improved to 24.7% by March 2023. This represents a nearly 15% increase over the approximately two-and-a-half-year period. However, there were few fluctuations observed during this period.
A minor decline was noticed in the third quarter of 2021 when the gross margin dropped to 22.7% from 23.4% in the second quarter. But the margin quickly rebounded and followed an upward trajectory reaching its highest at 24.7%. It is essential to note the relative stability across the most recent quarters presented, with the gross margin rising consistently from 23.6% in June 2022 to a peak of 24.7% by March 2023.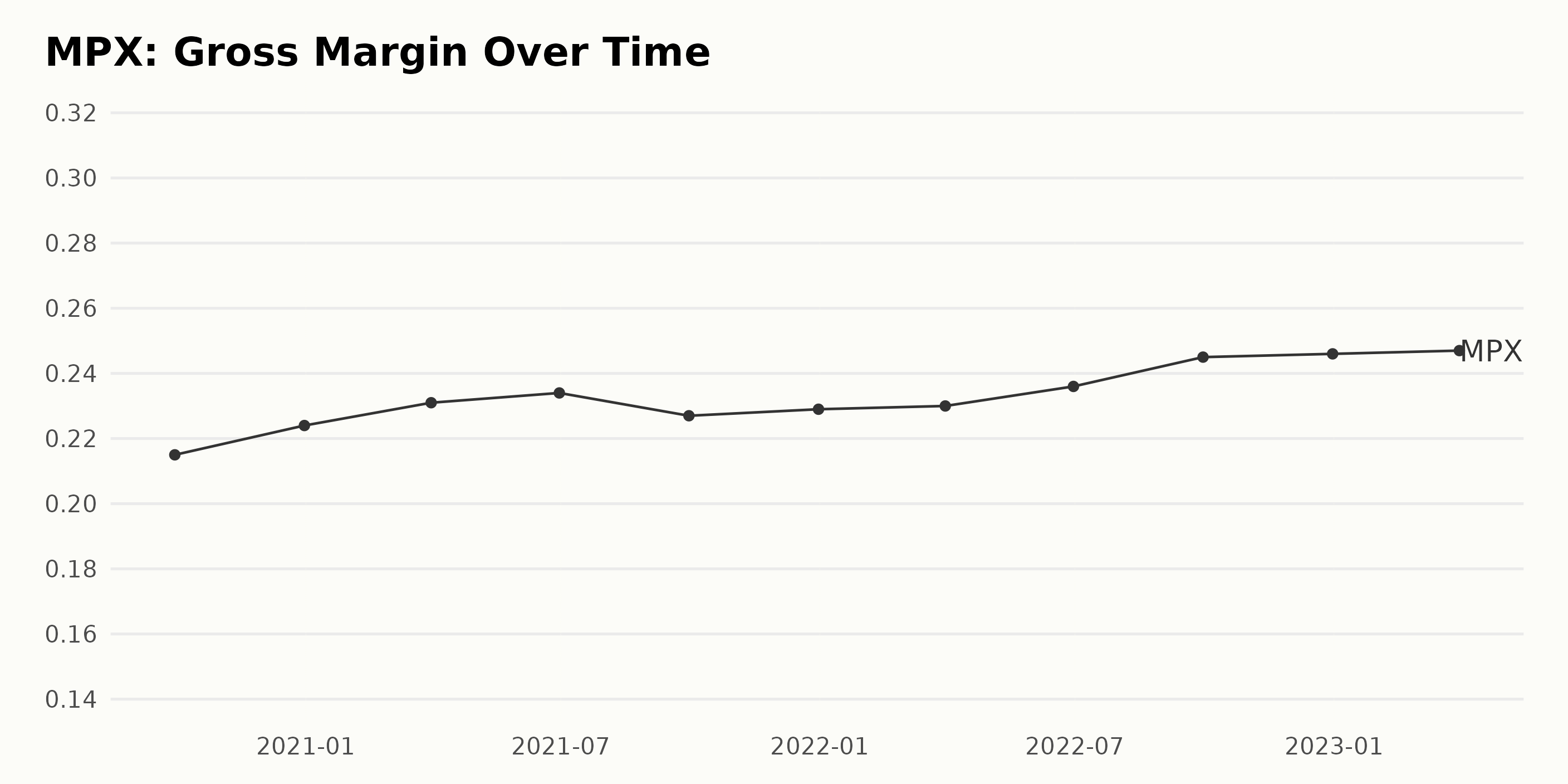 Unveiling the Steady Ascend of MPX's Share Prices in 2023
The share price data of MPX from January to July 2023 reflects an overall upward trend. Despite intermittent dips, there's a consistent rise in share price, possibly indicating positive market sentiment and strong financial performance. The following key points detail this progression:
On January 13, 2023, the share price of MPX stood at $12.66.
There is a slight increase to $13.62 on January 20.
Minor fluctuations occurred throughout February, with prices hovering around the $13 mark. By February 24, the price slightly diminished to $13.23.
In March 2023, a dip was seen towards the end of the month, with the price reducing to $12.21 on March 24. However, the share price quickly rebounded to $12.87 by March 31.
April 2023 saw a steady increase in MPX's share price. It reached $13.53 by April 28.
A significant growth spurt happened in May and June 2023. The share price skyrocketed to $15.18 on May 26 and continued to rise, reaching $16.69 by June 30.
The recorded price on July 6, 2023, was $16.47, indicating a slight increase from the end of June.
This indicates a growth pattern, and the acceleration in share price growth from May 2023 onwards suggests positive trends for MPX. Here is a chart of MPX's price over the past 180 days.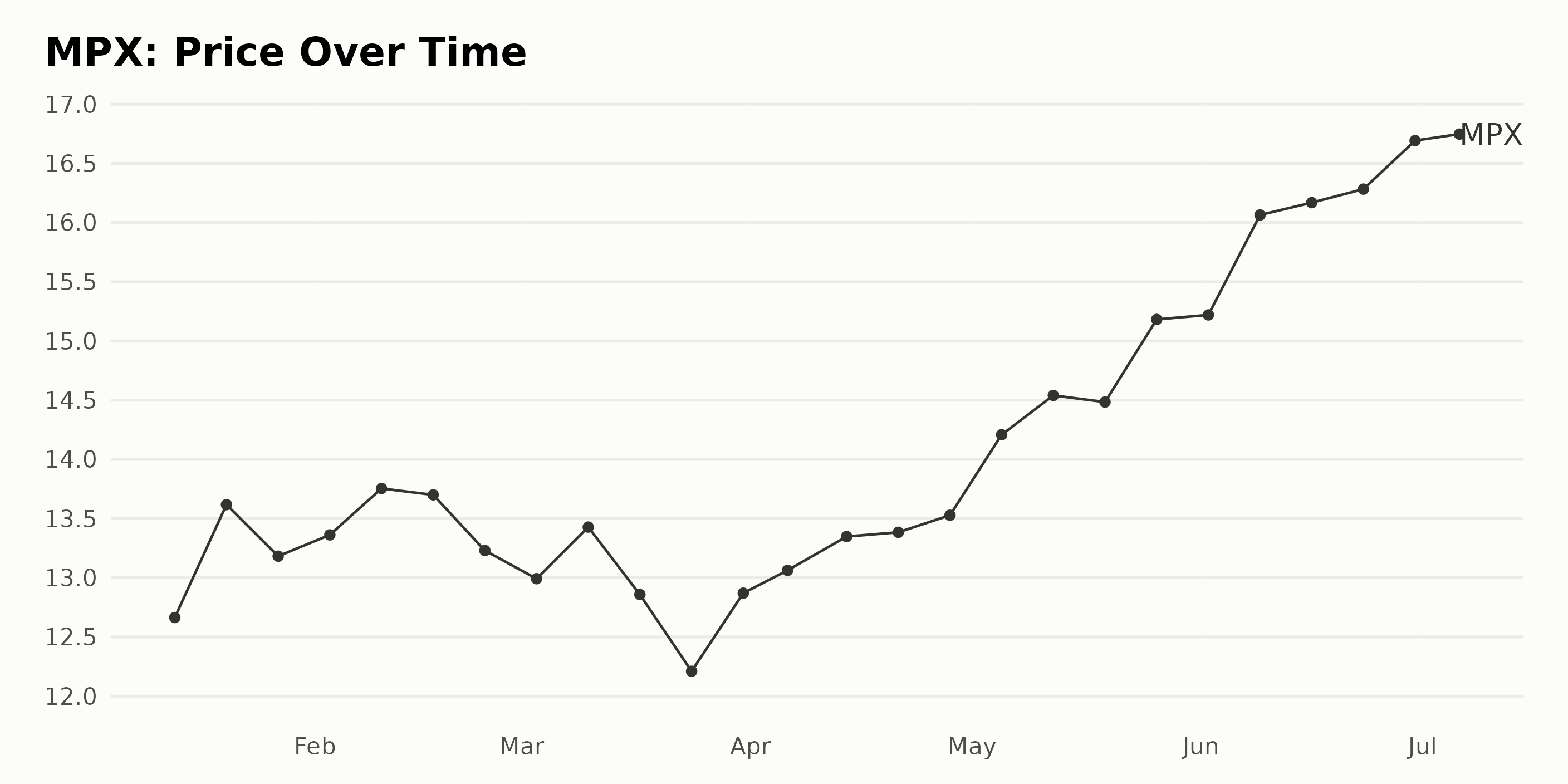 MPX's POWR Ratings Analysis: Strong Growth and Quality
MPX has an overall A rating, translating to a Strong Buy in our POWR Ratings system. It is ranked #1 among the 37 stocks in the Athletics & Recreation category.
Let's take a closer look: POWR Ratings:
January 14, 2023: A
January 21, 2023: A
Rank in Athletics & Recreation Category:
January 14, 2023: 1 out of 37
January 21, 2023: 2 out of 37
January 28, 2023: 2 out of 37
From February 4, 2023, the stock retains its A rating and holds the superior ranking of 1 in its category.
In the review of MPX's POWR Ratings, the two most noteworthy dimensions include Growth and Quality. Let's focus on these two key areas:
Growth - The growth rating stands out significantly as it averages above 95, maintaining this unique position between January and July 2023. MPX experienced a slight downturn in February and April 2023, where the rating dropped to 94 but rebounded to reach a peak of 98 by the end of May 2023.
Quality - Similarly, the quality dimension represents a strong area for MPX. It started at 82 in January 2023 and consistently climbed higher each month, reaching 90 by June 2023, and staying steady through July 2023.
This data suggests notable strengths within the growth and quality categories.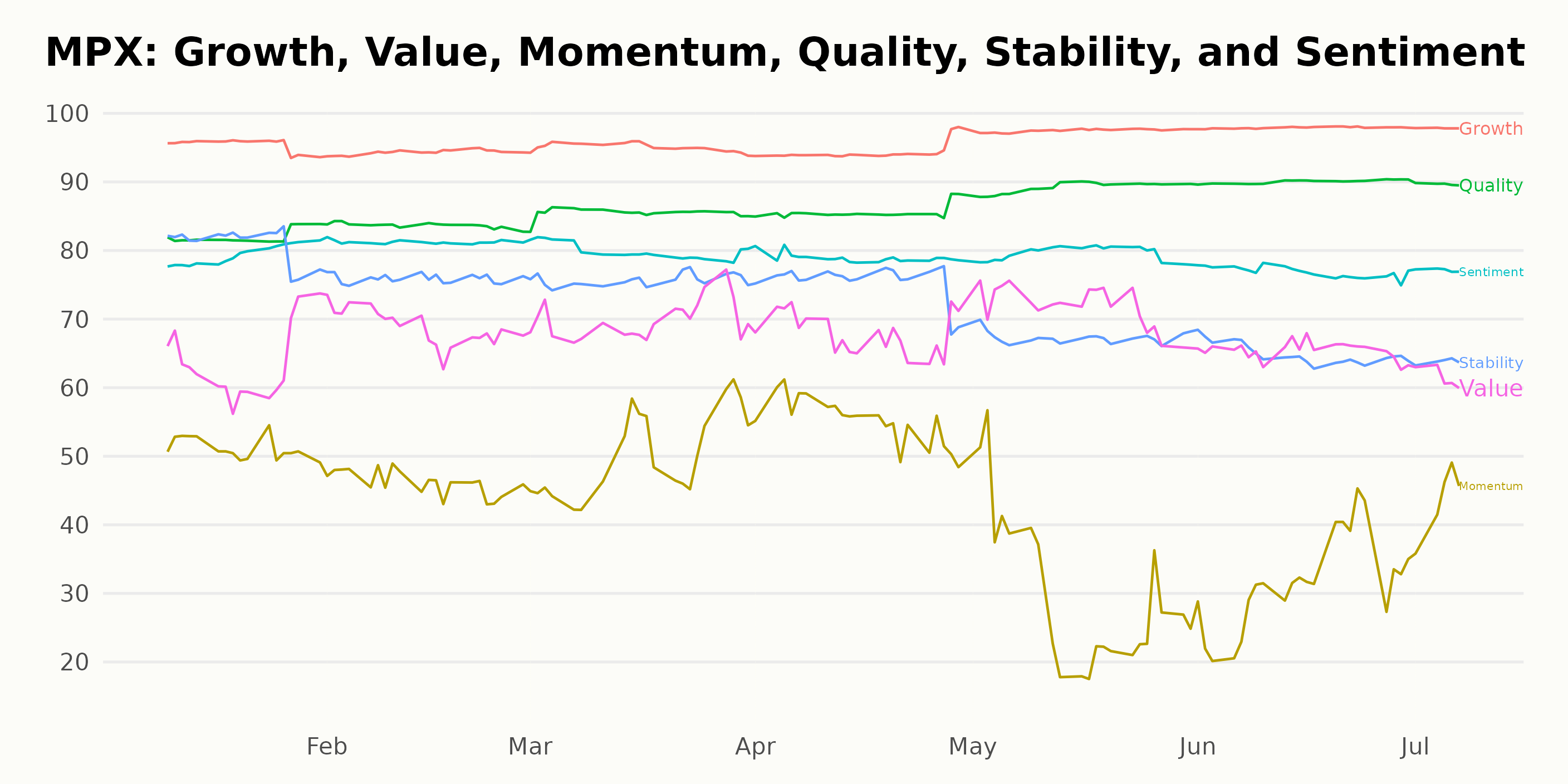 How does Marine Products Corporation (MPX) Stack Up Against its Peers?
Other stocks in the Athletics & Recreation sector that may be worth considering are MasterCraft Boat Holdings, Inc. (MCFT), American Outdoor Brands, Inc. (AOUT), and BRP Inc. (DOOO) -- they have better POWR Ratings.
Is the Bear Market Over?
43 year investment veteran Steve Reitmeister shares his updated stock market outlook & top picks for the rest of 2023. Spoiler Alert: Steve still believes bear case most likely.
Get Stock Market Outlook & Top Picks >
---
MPX shares were trading at $16.84 per share on Friday afternoon, up $0.37 (+2.25%). Year-to-date, MPX has gained 45.94%, versus a 16.59% rise in the benchmark S&P 500 index during the same period.
---
About the Author: Subhasree Kar
Subhasree's keen interest in financial instruments led her to pursue a career as an investment analyst. After earning a Master's degree in Economics, she gained knowledge of equity research and portfolio management at Finlatics.
Is Marine Products Corporation (MPX) the #1 Leisure Stock Pick?
appeared first on
StockNews.com