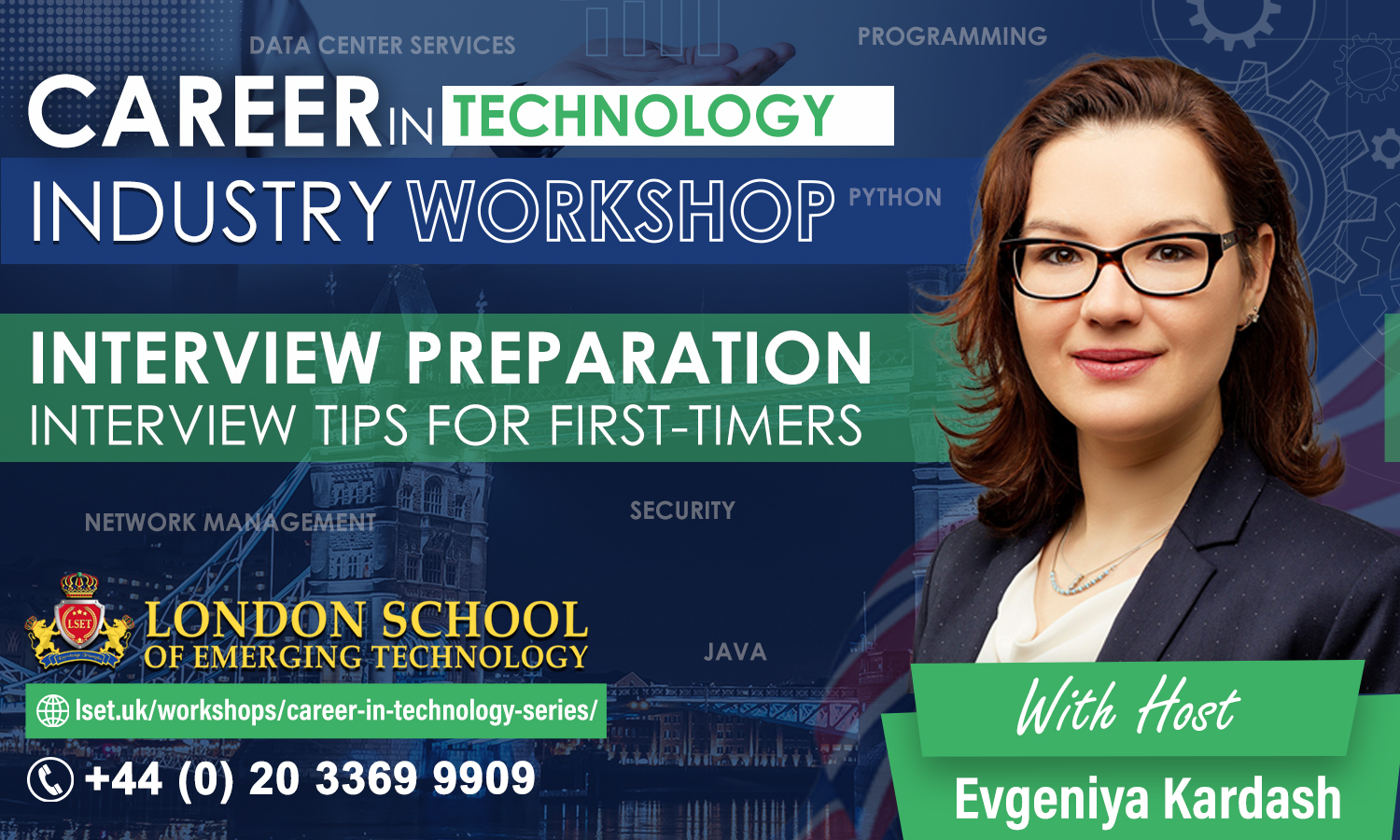 Interview Preparation: Interview Tips For First-Timers
An engaging workshop was recently held by LSET to assist students with building their confidence before high-demand IT job interviews.


Video Link: https://www.youtube.com/embed/N6L4XmHeLFY
On 23rd October 2022 at 11 am UK time, LSET successfully organised an Interview Preparation: Interview Tips For First-Timers workshop to boost the confidence of aspiring individuals looking for a job in the technology industry. LSET's career advisor covered topics and techniques that are important for IT job candidates to succeed in interviews. Participants questions were answered during the workshop, which was conducted in a very engaging manner.
LSET's career advisor has discussed a variety of topics, including the importance of practising common interview questions to knowing your strengths and demonstrating them to the interviewers, how to prepare yourself better for interviews by knowing more about the job role and most importantly the company, etc. 
Listed below are some of the key skillsets participants gained from the workshop
How to conduct research on the company and the position you are applying for.

How to manage time before, during, and after the interview.

How to present yourself in the interview

How to answer questions honestly, politely, and positively.

How to answer questions about your experience and skills, specifically for the first timers.

How to thank the interviewer after the interview.

Visit Worshop Page: https://lset.uk/workshops/career-in-technology-series/interview-preparation-interview-tips-for-first-timers/
About the London School of Emerging Technology (LSET)
The London School of Emerging Technology (LSET) provides the perfect combination of traditional teaching methods and a diverse range of metamorphosed skill training. These techniques help LSET infuse core corporate values such as entrepreneurship, liberal thinking, and a rational mindset. LSET encourage students to build much needed technical and business skill sets and discover innovative solutions to solve real-life industry problems. The compact student groups, flexible learning hours, and a significant emphasis on extracurricular activities make the overall learning experience more engaging and exciting. This could be the best opportunity for anyone who wants to become ready for the fast-paced competitive world. LSET courses are designed by industry experts with a focus on increasing students' employability factor. Students get to learn in a practical environment with the help of the latest technologies.
Media Contact
Company Name: London School of Emerging Technology
Contact Person: Jim Cohn
Email: Send Email
Phone: 02033699909
Address:1 Cornhill
City: London
Country: United Kingdom
Website: www.lset.uk