Sebastian Corniel, best known by his stage name 777Blest, was deeply affected by his younger brother's death. The trauma of a sibling taking his own life bore a mark on him to such an extent that 777Blest may have lost his own life too. His survival today endured the tragedy he suffered at a young age of physical abuse from his mentally and physically ill classmate. Not being able to retaliate and complain about it, Sebastian resorted to taking his brother's pain meds and soon became addicted to other drugs even before he hit his teens. Having a non-supportive father who thought only cowards get bullied never got to hear what young Sebastian was undergoing. Thus began his sojourn with drugs and other substances.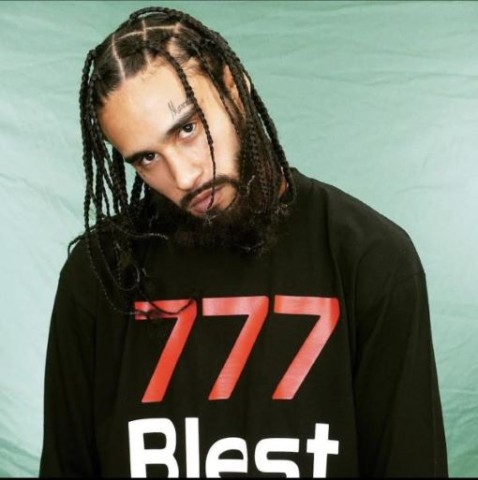 Sebastian was the youngest of three children. His family hailed from Compton and Carson in California but had moved to the North County San Diego in the city of Oceanside. Another blow to the young teen was the divorce of his parents at the age of 14. Over the years after graduating from high school, he got introduced to rap music by his father. Tupac and Biggie were his early influences, and later his older brother got him to check out DMX and Eminem. This gave Sebastian the impetus to check out other kinds of music, such as alternative rock music with artists like Disturbed, Green Day, Marilyn Manson, Metallic At etc.
Losing his brother, who was 22 at the time of death due to suicide by shooting himself, mentally impacted Sebastian in a big way that he wanted to stop feeling emotions. In order to do that, he became heavily reliant on Xanax, which made him cut off all his emotions and feelings. To get his fill of Xanax day in and day out, he began robbing Xanax dealers. Popping pills throughout the day took a toll on his body, and he started experiencing seizures. Hiding them was hard as Sebastian didn't want anyone to discover his drug habit; however, his father had kicked him out, and he lived in his mother's apartment. One day his mother found him having a seizure and lying on the floor. Seeing his mother sob for her son and lament the loss of another made Sebastian realize his mistakes and the pain he was causing others. Especially a parent who had already lost one son and saw another destroying his life right before her eyes.
The turning point in life happened, and Sebastian weaned away from drugs at the age of 19 when he enrolled in a rehab center to come clean. It's been five years since he has sobered up, and he does not indulge in either Xanax or any other hard drugs. He made it his life's mission to help others like himself and his dead brother, those suffering from mental health issues and needed that support and helping hand to seek treatment and counseling.
He has made an ardent plea to his listeners to get away from toxic people in their lives and not depend on drugs to find a resolution. He has advised people to stop spewing hate and being evil to others. There is a need to spread the sunshine by smiling more at strangers and giving them your good wishes. Through his music, he is trying to spread positivity and a message of love. Listening to Sebastian's music, several youngsters can garner hope, shun violence, and get off drugs that impede their lives and those who love them. This endeavor by 777Blest has worked wonders with millions of people coming to support him. he has been overwhelmed with the outpour of support through messages and DM for promoting mental health awareness and suicide prevention.
His main aim is to achieve world peace and help people in America work on changing for the better. Seeing a positive change in the society wherein people say no to drugs and violence. 777Blest hopes his music inspires people to become inspiring leaders such as Martin Luther King Jr. and Malcolm X and stand up for the truth and the right things. He wishes there would be no hatred based on creed, religion, and gender. People can reach out to 777Blest at his link or on social media https://ffmbio/777blest and 777blest.
Blest stands for Bringing Love Every Single Time.
His mother, Jaime Corniel, has grieved ever since she lost her son to suicide on that fateful day of 4th May 2017. The loss of her beloved son due to mental sickness hurt her even more, when her other child was heavily taking drugs to escape the pain of losing someone. She now tells her own son's story and his battle with paranoid schizophrenia. Using this incident as a way of reaching out to others to help others heal who are undergoing a similar loss. She became involved in Survivors of Suicide loss. Jaime has gone on to create an FB page for grieving mothers called 'beautifully broken. She goes on to explain that she was so overcome with her own grief that she didn't realize her other son was too broken and his heavy-duty addiction to Xanax. Fear gripped her when he lay on the floor with a seizure. However, her prayers were answered, and her son, 777blest as the world knows him sobered down and went on to create awareness on mental health, addiction, and recovery. His goal has gone to use the power of music to promote the causes he supports. This kind of music can change the world; presently, people need this kind of music to heal and positively look towards life. The change that comes as my sons have paved the way for talking on subjects that connect several people. The aim of making this known is to communicate this message to others who need help.
Media Contact
Company Name: PW MEDIA
Email: Send Email
City: California
Country: United States
Website: ffm.bio/777blest