Talented musical artist, DGM VIBEZ, continues to enjoy massive airplay following the release of the music video to his single "E.M.P.T.Y." as he plans to drop more records in the coming months
Music lovers across the globe might be up for an amazing time following the emergence of DGM VIBEZ and the subsequent release of fantastic sounds. Born MJ Griffin, the talented act recently brought his creativity to bear with the release of E.M.P.T.Y., a captivating record that has enjoyed massive airplay since it dropped with its music video also doing good numbers across platforms.
The universality of music as a language to reach millions of people worldwide, irrespective of their language, cannot be denied. However, the likes of DGM VIBEZ look set to take the listening experience to another level, a claim constantly substantiated by the records he drops.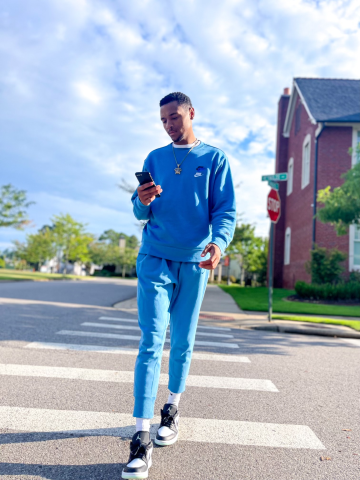 DGM VIBEZ was raised in a house of 5 kids by his grandmother who did everything to make them satisfied despite the limited resources. He was also hugely influenced by his aunt and uncle who both raised him as well. However, DGM VIBEZ did not let the challenges of life, including the passing of his grandmother, deter him from achieving his life goals. Inspired by his uncle, "Michael cantaloupe," he resorted to doing sports to stay out of trouble and subsequently pursued college basketball before dropping out to join the military at the age of 19. Eventually, DGM VIBEZ decided to follow his passion for doing music, which he discovered at the early age of 14, singing all different types of music from country, rap, rock, and R&B.
It has not been the easiest of journeys for DGM VIBEZ, constantly grinding and working hard sometimes on an empty stomach to make ends meet. However, 2022 seems to be his best year yet, releasing the hit single E.M.P.T.Y and welcoming his first child. The successes of the single have seemingly propelled DGM to do more as he seeks to use his talent to trigger conversations that will drive the desired change in society.
Honing his skills as a songwriter and musician over the years, DGM VIBEZ is committed to making songs across genres, including hip-hop, rap, and even pop and he might just be one of the best gifts to the music world in recent times.
E.M.P.T.Y. is currently available on all major streaming platforms for lovers of good music worldwide.
For further information about E.M.P.T.Y. and other projects from DGM VIBEZ, visit his pages on Instagram, TikTok, YouTube, and Apple Music.
Media Contact
Company Name: DGM VIBEZ
Contact Person: MJ GRIFFIN
Email: Send Email
Country: United States
Website: https://linktr.ee/dgmvibez