In-Person & Virtual Events Connect Dystonia Patients & Support Research toward a Cure

CHICAGO - July 5, 2022 - PRLog -- The Dystonia Medical Research Foundation (DMRF) is hosting a season of events to unite the dystonia community, increase awareness, and raise funds for medical research. A Virtual Kick-Off Celebration on August 18, 2022 will launch the return of in-person Dystonia Zoo Days in eight US cities after a two year hiatus due to the Covid-19 pandemic. The 3rd Virtual Dystonia Zoo Day & Closing Ceremonies on October 8, 2022 will close out the season. National Sponsors are Allergan, an AbbVie Company; Merz Therapeutics; and Ipsen Biopharmaceuticals.

In-person events are scheduled as follows:
Portland – August 20
Toledo – August 27
Bronx – September 10
Boston – September 17
Pittsburgh – September 18
Cleveland – September 25
Los Angeles – October 1
Twin Cities – October 2
Additional event information and sign-up instructions are available at
https://dystonia-foundation.org/events
About Dystonia
Dystonia
is a chronic, often disabling, neurological disorder marked by excessive, uncontrollable muscle contractions that cause involuntary body movements and postures. Common signs include abnormal movements of the head and neck, excessive blinking, a breathy or choked-sounding voice, hand cramps, or a twisted foot. Because dystonia may alter the subtle cues of natural body language, symptoms are sometimes mistaken in social situations for behavioral disturbance, substance abuse, or bad manners. Dystonia impacts people of all ages and backgrounds. Conservative estimates state 250,000 Americans are affected, and up to 70% of cases are misdiagnosed.
About the Dystonia Medical Research Foundation
The
Dystonia Medical Research Foundation
(DMRF) is the leading 501c3 dystonia patient advocacy organization. Founded in 1976, the mission is to advance research toward improved dystonia treatments and a cure, promote education and awareness, and provide support resources to affected individuals and families. The DMRF can be reached at
https://dystonia-foundation.org
or 800-377-DYST (3978).
Contact
Jessica Feeley
***@dystonia-foundation.org
Photos: (Click photo to enlarge)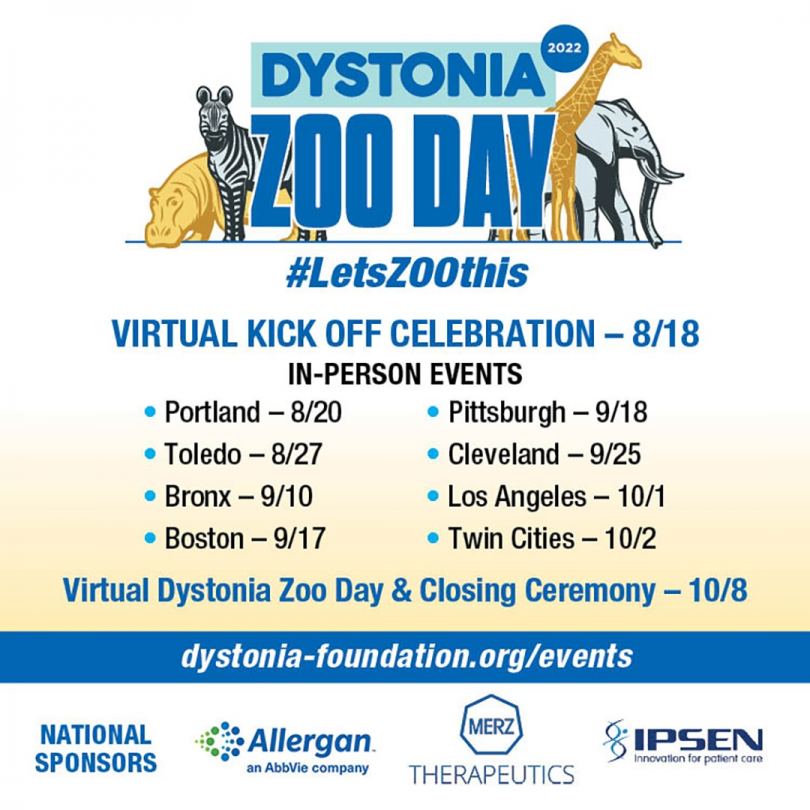 Read Full Story -
Dystonia Zoo Days Start August 18
|
More news from this source
Press release distribution by PRLog