Tesla Just Posted Record Quarterly Profit — Does Your Portfolio Need EV Exposure?
April 21, 2022 at 13:28 PM EDT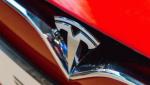 High energy prices have reignited positive clean energy sentiment. Tesla Inc. shares surged in premarket trading after the electric vehicle company posted its highest quarterly profit to date; the stock rose 7.1% before the opening bell on Thursday. As of midday Thursday, Tesla stock is up over 6%....