Recording Artist, Producer and Song Writer Dave'Ron releases a hit EP "Pillow Talk" Available on all streaming platforms including iTunes, Spotify, Amazon Music and Google Play now.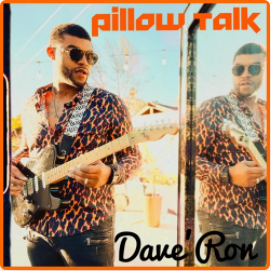 February 18, 2022 /MarketersMEDIA/ —
Dave'Ron released his EP "Pillow Talk" from his independent music label, DMadd Music, on February 7, 2022. Written, produced, and performed by Dave'Ron, "Pillow Talk" is a 6 track EP that features Dave'Rons' musicianship playing the guitar, keys and live drums on all songs, and his talent for creating real, timeless, music.
A testament to Dave'Rons' talent, he created, mixed and mastered "Pillow Talk", "Float" and "Sugar Sugar" – melodic blends of rock, R&B, Pop that remind you of summer and love - in 2 days. Featuring his mother, Melody McFarland, on "W.M.E.L Intro", and father, David Madden, on "Leo's Interlude" who also co-wrote "What You Need", music is in Dave'Ron's blood. And this talent carried through to his son Camden, who at the age of 7, helped executive produce "Sugar Sugar".
As a multi-talented musician, Dave'Ron is able to create unique sounds that break down the boundaries between hip-hop, R&B, Afro Beats, Reggeton, Electronic and Rock, and create music for the world. Being intentional about the kind of songs he creates, his melodic sounds intentionally soothe the soul, elevate your heart, and make you feel good.
All of Dave'Ron's prior releases were written and produced by Dave'Ron including his debut album "Black Gold Pt. 1", his sophomore album "The Code", and singles "Forever Type" featuring June Freedom and Mila, "Uganda" featuring Tunedarula, "Marilyn", and "Best You Ever Had" and "Feed Me (To the Bank)" Dave'Ron x P.Goods.
As an independent artist, producer and song writer, Dave'Ron is most often found composing music and writing songs for some of the hottest artists charting today including unreleased tracks from Doja Cat, Ye, Sean Kingston, Designer, Rae Sremmurd, Blacc China, Chris Brown and Trippie Red. Dave'Ron produced "Diamonds" on Victoria Kimani's 2021 album "Spirit Animal" that was considered for a Grammy in 2022, "Don't Let Me Down", an international electronic hit with 8 million streams on YouTube, and Stefano Langone's 2016 EP "Obsession".
When not creating music, Dave'Ron is a tech entrepreneur developing applications that solve problems in the music world. As CEO of Studio Tonight, a mobile app for booking studios all over the world, Dave'Ron aims to be disruptive in the music world from the board room to the stage.
Beautifully packaged in top-notch audio quality, "Pillow Talk" is available on Spotify, Apple Music, Deezer, Tidal, and Google Play. To listen to "Pillow Talk" on Apple music visit: https://music.apple.com/us/album/pillow-talk-ep/1608824499.
Dave'Ron is set to release a 24 track album summer of 2022 including the hit single "No Drugs" featuring Sean Kingston, so stay up-to-date with Dave'Ron by following him on Instagram: https://www.instagram.com/iamdaveron/, subscribe to his YouTube channel: https://www.youtube.com/channel/UCGvf1_QB4jQOtBDk0ZrPcVg, and Spotify artist page: https://open.spotify.com/artist/45bc5nZE4DgXdzPhR0JKAn.
Contact Info:
Name: D'Madd Music
Email: Send Email
Organization: D'Madd Music
Website: https://www.youtube.com/channel/UCGvf1_QB4jQOtBDk0ZrPcVg
Source URL: https://marketersmedia.com/international-music-artist-daveron-announces-his-ep-pillow-talk/89064798
Source: MarketersMEDIA
Release ID: 89064798