The in-home care provider is renowned for its compassionate care that puts its clients at the heart of its service
(PRUnderground) January 31st, 2022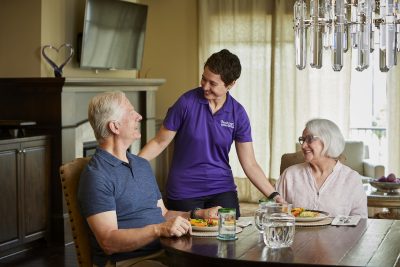 When it comes time to make decisions about an elderly loved one's continued care, seniors and their families are faced with a number of choices. From moving into assisted living facilities or senior communities to staying at home, families must carefully weigh their choices and consider their elderly loved one's wishes. And as more seniors are expressing their desire to stay at home and age in place, one New York in-home care provider is making that choice easier for clients and their families thanks to its commitment to compassionate, 5-star rated care at the heart of its mission.
Touching Hearts at Home NYC, a New York City-based senior home services provider, is passionate about caring for seniors across New York. Touching Hearts at Home NYC has received numerous awards for the quality of care delivered by its compassionate caregivers. The agency offers non-medical in-home care for elderly clients throughout New York, ensuring that they get the care they need to thrive while also making heart-to-heart connections with each client they come into contact with.
For many homebound seniors or those who may have family living far away, having a caregiver stop by for a few hours a day can impact their well-being and overall happiness. Touching Hearts at Home NYC's caregivers can brighten clients' days with engaging conversation, laughing over a cup of coffee, enjoying favorite movies together, or taking a walk around a local park. These types of connections are vital to seniors' longevity and happiness, and Touching Hearts at Home NYC's caregivers are poised to work with families and clients to create a care plan tailored to their individual needs.
In addition to companionship, caregivers also offer a range of other valuable services to make seniors' lives easier. Caregivers can prepare meals, schedule medical appointments, assist with light housekeeping, and more to ensure the clients' needs are met and that their home remains a safe and happy environment for them to continue to thrive in.
Touching Hearts at Home NYC offers drop-in services for seniors looking for extra companionship or a helping hand or full-time, around-the-clock care for those needing additional support and friendship.
"Touching Hearts at Home NYC is New York's in-home care provider with heart," said Craig Sendach, owner of Touching Hearts at Home NYC. "Offering in-home care is one thing, but offering 5-star rated care by providers who are passionate about truly helping our clients thrive is what sets us apart. Our clients form incredible bonds with our caregivers, often seeing them as part of their family. It's these heartfelt connections we strive for every day as we look to enhance the lives of seniors across New York."
To learn more about Touching Hearts at Home NYC and its heart-centered, compassionate in-home care services for New York seniors with long- or short-term needs, visit https://www.touchinghearts.com/nyc/.
About Touching Hearts at Home NYC Area
About Touching Hearts at Home NYC Area – Touching Hearts NYC offers in-home care to aging adults, seniors, and individuals living with medical conditions and disabilities at rates considerably more affordable than care outside the home. The agency is known for Non-Medical Home Care, Companionship and Homemaker services in New York City's Manhattan, Brooklyn, Westchester, Queens, and Rockland areas. Its focus is on providing person-centered care to help those in need remain in their home, maintain the lifestyle they choose, and feel confident they will be treated with the respect and kindness they deserve.
The post New York Seniors Enjoy Heart-to-Heart Care from Touching Hearts NYC 5-Star Rated Providers first appeared on PRUnderground.
Press Contact
Name: Craig Sendach

Phone: +1-212-201-6139

Email: Contact Us

Website: https://www.touchinghearts.com/nyc/
Original Press Release.