What's an attractive fixed income instrument to play rising rates?
January 20, 2022 at 16:41 PM EST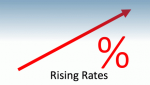 Over the weekend, Barron's Roundtable released their widely read top stock & fund picks for 2022 (click here). One of the Roundtable Members, David Giroux (T Rowe Price CIO and Portfolio Manager) said "…The asset class with the most attractive risk/reward profile is leveraged loans"....