(PRUnderground) January 19th, 2022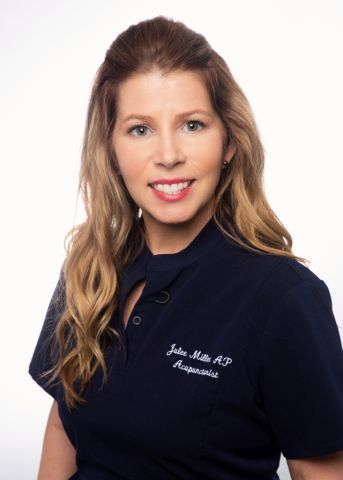 The World Health Organization states neurological disorders are the leading cause of disability affecting nearly 1 in 6 people around the world. While acupuncture has been around for thousands of years, not many people recognize its full potential to treat a myriad of diseases. Acupuncture has been used as an alternative supplemental medicine (ASM) for hundreds of years globally, and more readily in the United States since the 1970s. Research is showing that acupuncture has clinical efficacy on the treatment of neurological diseases, especially neurodegenerative diseases. How does it work? What are its benefits?
Dr. Julee Miller AP, DOM, NMT, a 2022 ThreeBestRated® award-winning Acupuncture Physician from Jacksonville, answers those questions.
"Acupuncture is highly beneficial in treating many neurological disorders including Peripheral Neuropathy, Trigeminal Neuralgia, Post Herpetic Neuralgia & Shingles, Migraine Headaches, Bell's Palsy, Multiple Sclerosis, Parkinson's, Sciatica, and Disc Herniations", says Dr. Miller.
Acupuncture has been proven to be an effective treatment method for pain, numbness, loss of balance associated with neuropathies. Stimulation of peripheral nerves by acupuncture can recover and repair a variety of neurological diseases. The goal of these acupuncture treatments is to increase blood flow to damaged nerves, stimulate nerve regeneration, and decrease pain. Many patients find relief from acupuncture treatments where the prescribed pain medications such as Gabapentin or Lyrica have failed. Dr. Miller says, "A lot of our patients suffer nerve pain. They come to us in constant pain from neuropathy which prevents them from not only living their lives but more importantly, prevents them from enjoying it."
While being asked about the results, she says, "Depending on the severity of nerve damage, we typically see tremendous progress within a few weeks of treatment."
About Dr. Julee Miller AP, DOM, NMT – Health Pointe Jacksonville Acupuncture and Wellness Clinic
With over three decades of combined experience in sports medicine and Acupuncture, Dr. Julee Miller is one of the leading Acupuncturists in Jacksonville. She is a board-certified and Licensed Acupuncture Physician with an undergraduate degree in Sports Science with concentration in Athletic Training.
Anyone seeking treatment for chronic pain can be rest assured that they will receive the highest quality of care from an expert in her field. Who knows better about pain management than Dr. Miller as she has vast experience in treating sports injuries and chronic pain conditions. Notably, she was a member of the 2004 Olympic Sports Rehabilitation Team in Athens, Greece.
She is the clinic director and owner of Health Pointe Jacksonville Acupuncture and Wellness Clinic, and she specializes in providing solutions to chronic pain conditions, chronic illness, and infertility. Being an Integrative Fertility and Women's Health expert, Dr. Miller also brings in a novel approach to treating infertility and hormone imbalances.
Dr. Julee Miller is a proud recipient of the ThreeBestRated® award for the years 2021 and 2022. She feels excited to be recognized by ThreeBestRated two times in a row. She says, "It's very exciting to be recognized as the area's premier acupuncture and wellness clinic for the second year in a row by Three Best Rated. It's no secret that we are in the business of helping people and changing lives, and our team takes great pride in providing the highest quality of care!"
Remarkably, Dr. Miller has 135,000 patient treatments performed so far in her career. She is proud of the patient base they have gained over the years. She says, "2021 was a record year for us. We treated the highest number of patients and doubled our staff. We will continue offering the best care while adding innovative medical solutions in order to achieve measurable, long-lasting results."
To get in touch, visit – https://www.hpjax.com/.
About ThreeBestRated
Three Best Rated® was created in 2014 with the simple goal of finding the top 3 local businesses, professionals, restaurants, health care providers, and everything in-between, in any city. Every business is meticulously handpicked by our employees. We check business's reputation, history, complaints, ratings, proximity, satisfaction, trust, cost, general excellence, reviews, and more, using our 50-Point Inspection. We only display businesses that are verified by our employees. Other places will call this "hard work" and "unnecessary". We call it "due diligence" and "the right thing to do". Our website is updated on a regular basis for quality and the latest business information.
Three Best Rated has the honor of helping 4 million customers every month find the best businesses in any city – without any effort!
The post Surprising Benefits of Acupuncture in Treating Neurological Disorders - Highlights a 2022 ThreeBestRated Award-Winning Acupuncture Physician from Jacksonville, Florida first appeared on PRUnderground.
Press Contact
Name: Sara Wilson

Phone: (833)-488-6888

Email: Contact Us

Website: https://threebestrated.com/
Original Press Release.