(PRUnderground) January 4th, 2022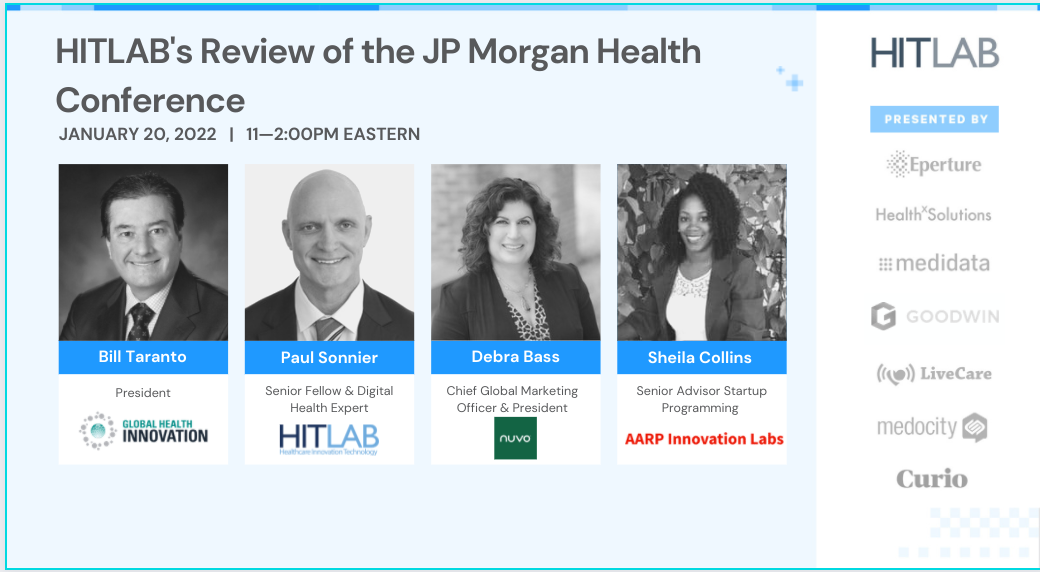 On January 20, HITLAB, a leading evidence-based healthcare innovation lab, will host its first symposium of the 2022 focusing on a review of the annual J.P. Morgan Healthcare conference scheduled to take place in early January.
The free, virtual seminar will bring together the industry's top health experts, venture capitalists and innovators who will share insights on the latest digital trends that people learned while at the virtual JP Morgan Healthcare Week, innovations and evidence-based tools in healthcare, industries/companies that are ripe for investment, and a forecast for digital health in 2022. 
Attendees will have the opportunity to network and learn from leaders including but not limited to:
Speakers will address topics such as:
Healthcare Commerce and investing 

Digital Health tools, apps and devices

Health tracking 

Personalized medicine

Healthcare equity and access
The three-hour event is perfect for anyone interested in healthtech startups, pharmaceuticals, medical and humanitarian development, health equity, public health or students from sustainable development, medical fields or tech/engineering backgrounds.
Anyone interested in attending can RSVP here, and anyone interested speaking, or sponsoring can visit https://www.hitlab.org/contact/ or contact events@hitlab.org
About HITLAB Seminar Series
HITLAB's Seminar Series bridges the gap between academic and professional healthcare. Our series serves as an outlet to facilitate connections and provide networking and growth opportunities for digital health professionals.
Since 2007, our Seminar Series has brought together leading experts – including scientists, physicians, IT architects, public health practitioners, and investors – who share a single vision: to design and scale innovative technologies that improve health outcomes around the world.
The post HITLAB Hosts 40th annual January Digital Health Symposium to Review Insights from J.P. Morgan Healthcare Conference first appeared on PRUnderground.
Press Contact
Name: Stan Kachnowski

Phone: 212-543-2000

Email: Contact Us

Website: https://hitlab.org
Original Press Release.