The NYC area home care services provider has been recognized as an industry best senior in-home care provider
(PRUnderground) December 20th, 2021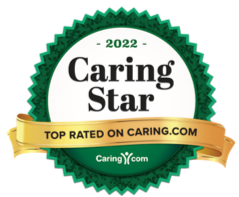 Touching Hearts at Home NYC, a New York-based senior in-home services provider, has announced that it has been honored as a Caring Star of 2022. The award was announced on December 7 and recognizes Touching Hearts at Home NYC as a trustworthy care provider delivering excellent service to its clients.
The Caring Stars award is given to the nation's best providers in senior care and includes non-medical home care, home health care, and hospice agencies.
To be considered for this prestigious industry award, Touching Hearts at Home NYC met a rigorous set of criteria based on consumer ratings and reviews published on Caring.com. To qualify, organizations must have 10 or more consumer reviews published on their Caring.com listing, with an overall average rating of 4.5 stars or higher (on a scale of 1 to 5) by October 15, 2021. The award also requires 3 or more published reviews on their Caring.com listing from 10/15/20 through 10/15/21, with at least one of the recent reviews being a 5-star review and one or more published in 2021 among many more criteria.
After meeting these criteria, each organization's Caring.com profile is carefully scrutinized, and an audit is conducted on the company's publicly available licensing and inspection reports.
As a Caring Star of 2022 award-winner, Touching Hearts at Home NYC has received a special badge designating them as a recipient and recognition on Caring.com's website and in a national press release. Touching Hearts at Home NYC also received an award widget for their website, and a mailed certificate celebrating the award.
Caring Stars agencies also stand out in search engines and enjoy profiles in local and trade media, which helps boost employee morale and attract more clients.
"We are thrilled to be named a Caring Star for 2022 by Caring.com," said Touching Hearts at Home NYC owner Craig Sendach. "This award is a testament to our deep commitment to delivering excellent care to our clients and the hard work and caring nature of each and every caregiver on staff at Touching Hearts at Home NYC. We hope that this award and the increased exposure we receive will help connect us to families across the NYC area who may be looking for high-quality, personalized in-home care services for their elderly loved ones."
Touching Hearts at Home NYC is a non-medical care in-home care provider for seniors, adults, and those with cognitive conditions or disabilities in the New York City area. It provides quality companionship, housekeeping, meal preparation, and dementia care services delivered by compassionate, skilled caregivers.
To learn more about Touching Hearts at Home NYC, visit https://www.touchinghearts.com/nyc/ or visit their profile on Caring.com.
About Touching Hearts at Home NYC Area
About Touching Hearts at Home NYC Area – Touching Hearts NYC offers in-home care to aging adults, seniors, and individuals living with medical conditions and disabilities at rates considerably more affordable than care outside the home. The agency is known for Non-Medical Home Care, Companionship and Homemaker services in New York City's Manhattan, Brooklyn, Westchester, Queens, and Rockland areas. Its focus is on providing person-centered care to help those in need remain in their home, maintain the lifestyle they choose, and feel confident they will be treated with the respect and kindness they deserve.
The post Manhattan In-Home Care Provider Touching Hearts NYC Earns Accolades as a Caring Star of 2022 first appeared on PRUnderground.
Press Contact
Name: Craig Sendach

Phone: +1-212-201-6139

Email: Contact Us

Website: https://www.touchinghearts.com/nyc/
Original Press Release.