The New York area in-home care provider received the Caring Star award for 2022 for providing the North Star experience to help keep seniors' homes safe, healthy, and clean to age comfortably at home
(PRUnderground) December 13th, 2021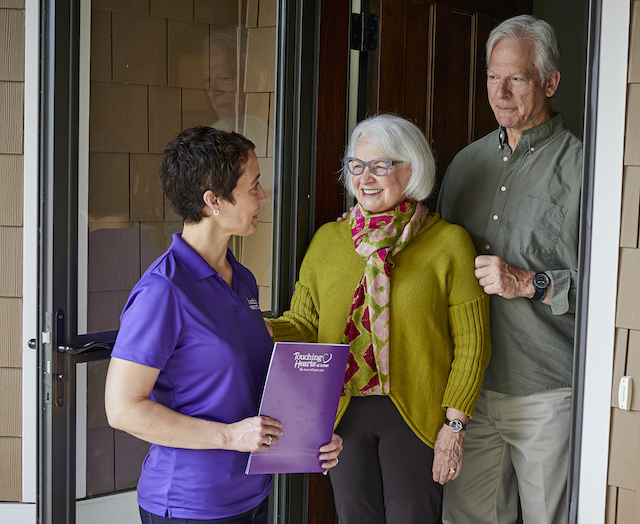 When an elderly loved one expresses their desire to age at home instead of in an assisted care facility, families undoubtedly have many questions and concerns. Who will check in on their loved one? Will they need assistance cleaning their home and keeping it free from hazards that can cause falls? These are just a few questions families may have that weigh heavily on their minds when weighing the pros and cons of their loved one's desire to age at home.
Fortunately, for New York seniors and their families, one in-home care provider makes those decisions easier with its compassionate care services.
Touching Hearts at Home NYC, a New York City-based senior home services provider, recently received Caring Star award for 2022, offers 5-star rated in-home care for New York's elderly. Whether clients need someone to drop in a few hours a day or around-the-clock care with 24-hour live-in services, the provider's caregivers are eager to offer individualized support to make their clients' lives happier, healthier, and easier.
Touching Hearts at Home NYC offers New York seniors a variety of non-medical care services, including light housekeeping, prepping meals, washing and folding laundry, sweeping, mopping, and more.
For seniors living at home alone, these types of services are invaluable to their health and safety. As people age, these tasks can become laborious and create more opportunities for dangerous slips and falls. Dirty clothing can also cause discomfort and an unkempt appearance, while food left out on counters or dirty dishes in the sink can spread germs and create an unpleasant living environment. But with the support of Touching Hearts at Home NYC's caregivers, families can enjoy the peace of mind that their loved one's environment is safe, healthy, clean and free of hazards that could cause harm to their elderly family member.
In addition to creating a safer physical home environment, caregivers can also support a client's mental and physical health and safety. Seniors thrive on social connections, and the companionship services offered by Touching Hearts at Home NYC's caregivers ensure their needs are met. Additionally, caregivers can administer medicine safely to ensure the client stays on track with medications to optimize their health and wellbeing.
"Ensuring a loved one has a safe and clean home environment is one of the most important factors families consider when discussing aging-at-home options," said Craig Sendach, owner of Touching Hearts at Home NYC. "Housekeeping and self-care tasks can become more difficult as we age, so for seniors who want to live at home, finding a solution that ensures these needs are met while still maintaining a level of independence is key. Our caregivers give families this balance. They can assist with daily housekeeping tasks while also ensuring the client gets valuable social interaction and even takes their medications, thus enhancing our clients' quality of life while keeping them safe."
To learn more about Touching Hearts at Home NYC and its New York in-home care services, visit https://www.touchinghearts.com/nyc/.
About Touching Hearts at Home NYC Area
About Touching Hearts at Home NYC Area – Touching Hearts NYC offers in-home care to aging adults, seniors, and individuals living with medical conditions and disabilities at rates considerably more affordable than care outside the home. The agency is known for Non-Medical Home Care, Companionship and Homemaker services in New York City's Manhattan, Brooklyn, Westchester, Queens, and Rockland areas. Its focus is on providing person-centered care to help those in need remain in their home, maintain the lifestyle they choose, and feel confident they will be treated with the respect and kindness they deserve.
The post New York Seniors Staying Safe and Happy This Holiday Season with Touching Hearts at Home NYC first appeared on PRUnderground.
Press Contact
Name: Craig Sendach

Phone: +1-212-201-6139

Email: Contact Us

Website: https://www.touchinghearts.com/nyc/
Original Press Release.