DearBuds is a set of earbuds that dehumidifiers the ears to prevent symptoms that are common with prolonged earphone use such as itchiness, bacterial infection, and fungal infection.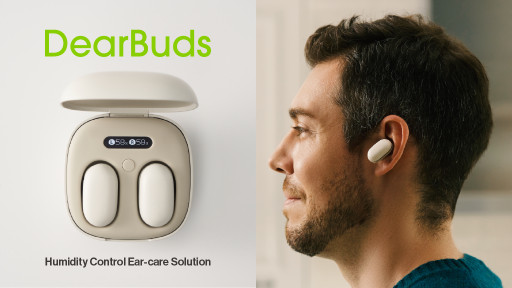 SEOUL, South Korea - November 10, 2021 - (
Newswire.com
)
 Earbud sales and usage have been skyrocketing in recent years. However, many earbuds users are not aware that prolonged use of these devices seals the ear and, as a result, rapidly increases the humidity levels in the ear canal. At the same time, manufacturers are well aware of the health risks this imposes. Linkface is looking to help earphone users with DearBuds, a wearable device that dehumidifies the ear canals within three short minutes as a means of preventative ear care. Before entering production, Linkface will be launching a Kickstarter campaign to raise funds for the DearBuds.
Earphones essentially act as a barrier between the ear canals and the air. As a result, the humidity levels in the ear drastically rise and create an environment ideal for bacteria growth. This environment can lead to both short-term and long-term ramifications that, over time, can evolve from a minor inconvenience into a primary health concern. Some symptoms that may indicate a more severe condition in the ears include a feeling of fullness in the ear, earaches, or otitis externa. Symptoms caused by high humidity levels in the ear can be prevented in advance by being proactive about removing the excess humidity with DearBuds.
Once the DearBuds are placed into the ear, real-time sensors will automatically map out the internal structure of the ear and measure both the humidity and temperature levels. Users will then be able to check these levels on the mini-display located on the charging case. Once the information is confirmed, all it takes is the single press of a button to begin the dehumidification process. The magnetic levitation fan and small micro LED lights will use a combination of light, heat, and airflow to dehumidify the ear canals for up to three minutes. During these three minutes, DearBuds will circulate up to 10 liters of air to bring the humidity and temperature levels back to normal levels. More information on the DearBuds is available on the preview page of the DearBuds Kickstarter campaign.
Linkface is announcing that the DearBuds Kickstarter campaign will be launching on Monday, November 15, at 9:00 p.m. PST. The earliest backers will receive a set of DearBuds for $129, which is 46% off the retail price ($239). These discounted prices will be exclusive only to Kickstarter backers. Any editors, journalists, or social media influencers interested in reviewing the DearBuds are encouraged to contact the creator below.
Contact Information:
Jack Lim - CEO & Founder of Linkface
Email: jack@linkface.co
Phone: +82 31-726-0880
Website: www.linkface.co
Press Release Service by
Newswire.com
Original Source:
Linkface Co., Ltd to Launch Kickstarter Campaign for DearBuds, the Wearable Device That Counteracts the Negative Effects of Prolonged Earphone Use