The in-home care provider helps seniors living with Alzheimer's disease leverage easy-to-follow care plans to optimize their quality of life while living at home
(PRUnderground) November 1st, 2021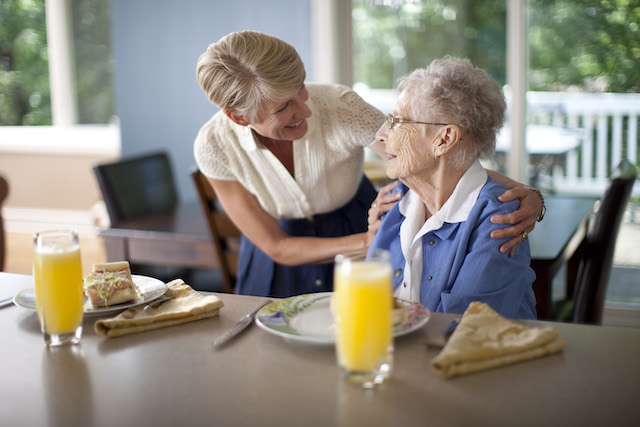 As we age, one of the most important decisions our families will make is a plan for care. Deciding whether to age at home or in an assisted care facility can be a daunting process. Worrying about health and safety is not uncommon. And for those diagnosed with Alzheimer's disease, finding quality care options can be even more challenging. But for Manhattan seniors, Touching Hearts at Home NYC is making the decision to age at home more straightforward with its quality in-home Alzheimer's care services. 
Touching Hearts at Home in NYC provides award-winning quality Alzheimer's care in the client's own home. Skilled caregivers work with each client and their family to create a personalized care plan that seamlessly integrates a non-medical caregiving plan into the life of elderly loved ones.
Manhattan seniors and their families looking for quality in-home care benefit from a variety of non-medical care services at home when using the services of a Touching Hearts at Home NYC caregiver. For clients living with Alzheimer's and dementia, having a simplified routine with few surprises can help ensure the client can live safely at home with as little stress as possible. 
With this in mind, Touching Hearts at Home NYC's Manhattan caregivers help seniors and their families set up routines and manage expectations. Caregivers can help clients with Alzheimer's establish schedules for medical appointments, bathing, eating, and more by discussing these schedules with the client when they are most alert and prone to remembering them. 
Caregivers are also trained in essential skills to help them navigate the challenges of working with clients with dementia. Being patient is vital in working with clients diagnosed with Alzheimer's, and Touching Hearts at Home NYC's caregivers demonstrate patience in helping them complete tasks and in everyday interactions. 
In addition to helping clients diagnosed with Alzheimer's get into a daily routine, Touching Hearts at Home NYC's caregivers also provide companionship that is vital in helping them thrive. Caregivers will partner with the client to schedule activities like exercise, socializing, watching a favorite television show, and more so that the client retains as normal of a life as possible while reaping the benefits of human connection and socialization.  
Touching Hearts at Home NYC offers two levels of service to meet the needs of seniors and their families. Drop-in services are available to help manage daily tasks and appointments. For the elderly who need more intensive support, the care team also offers around-the-clock care to ensure the client's safety and wellbeing. 
"Our caregivers truly become part of your family's extended care team, working closely with healthcare providers' recommendations to coordinate your loved one's activities and day-to-day life at home," said Craig Sendach, owner of Touching Hearts at Home NYC. "Our caregivers are specially trained in working with clients living with Alzheimer's disease ensuring that your loved one can thrive at home for as long as possible while also delivering peace of mind to families that their loved one is well cared for." 
To learn more about all of Touching Hearts at Home NYC's services for Manhattan seniors, including those living with Alzheimer's disease, visit https://www.touchinghearts.com/nyc/. 
About Touching Hearts at Home NYC Area
About Touching Hearts at Home NYC Area – Touching Hearts NYC offers in-home care to aging adults, seniors, and individuals living with medical conditions and disabilities at rates considerably more affordable than care outside the home. The agency is known for Non-Medical Home Care, Companionship and Homemaker services in New York City's Manhattan, Brooklyn, Westchester, Queens, and Rockland areas. Its focus is on providing person-centered care to help those in need remain in their home, maintain the lifestyle they choose, and feel confident they will be treated with the respect and kindness they deserve.
The post Manhattan Seniors Benefit from Touching Hearts NYC's Individualized Alzheimer's Care Services first appeared on PRUnderground.
Press Contact
Name: Craig Sendach

Phone: +1-212-201-6139

Email: Contact Us

Website: https://www.touchinghearts.com/nyc/
Original Press Release.