The in-home care provider gives seniors living with dementia easy-to-follow routines to optimize their quality of life while living at home
(PRUnderground) October 25th, 2021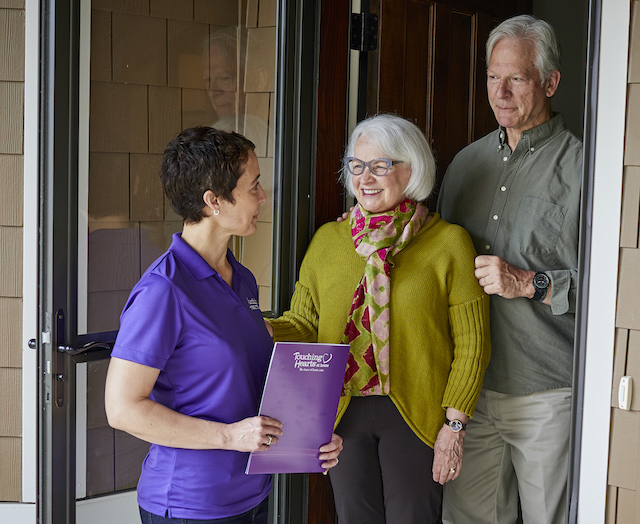 Today, seniors are living longer than ever, even those with dementia. For seniors living with dementia who want to age at home versus moving into an assisted living facility, finding quality dementia care can be a challenge. Families may want to honor their loved one's wishes but also recognize the need to balance this with ensuring their elderly family member's safety and quality of life.
For Brooklyn seniors with dementia, Touching Hearts at Home NYC is making aging at home a reality with its memory care services. The in-home caregiver offers non-medical care services for seniors across the New York City area, including Brooklyn. Caregivers can provide a wide variety of services to elderly dementia patients, including companionship, light housekeeping, meal preparation, transportation services, and more to ensure the client is comfortable and safe at home and on the go. 
Touching Hearts at Home NYC's caregivers are trained in the latest care practices for seniors diagnosed with dementia. They can assist families by supplementing care of their loved ones by stopping in for a few hours a day, or they can offer around-the-clock care for those with more pressing needs. For dementia patients struggling with sleep and wandering, for instance, Touching Hearts at Home NYC caregivers can provide overnight care to ensure the client's needs are met when they wake up at night and are comforted and stay safe. 
Caregivers can also ensure that Brooklyn seniors living with dementia optimize their health and wellbeing by assisting with setting the client up on a daily routine. For patients with dementia, surprises can be unwelcome and trigger stress and negative reactions. With this in mind, Touching Hearts at Home NYC's caregivers can use memory care best practices to help the client set a daily schedule for walking, bathing, eating, taking medication, and socializing so the patient is more likely to remember daily tasks and perform them with some independence. 
In caring for its clients with dementia, Touching Hearts at Home NYC's caregivers ensure that clients and their families are all actively involved in care decisions. They can also provide the family with advice on how to best interact with their loved one and strategies for how to help their loved one still maintain an active life while living at home with dementia. 
"Families in Brooklyn deserve to have access to quality in-home care for their elderly loved one. And when a loved one is living with dementia, it can be stressful to find a caregiver you can trust that is equipped to deal with the special circumstances posed by a dementia diagnosis," said Craig Sendach, owner of Touching Hearts at Home NYC. "Touching Hearts at Home NYC's caregivers are specially trained in memory care concerns. Our team can help those living with dementia stay safe in their homes while also providing an exceptional quality of life for as long as possible, giving families peace of mind that their loved one is well cared for."
To learn more about all of Touching Hearts at Home NYC's services for Brooklyn seniors, including memory care support for those living with dementia, visit https://www.touchinghearts.com/nyc/. 
About Touching Hearts at Home NYC Area
About Touching Hearts at Home NYC Area – Touching Hearts NYC offers in-home care to aging adults, seniors, and individuals living with medical conditions and disabilities at rates considerably more affordable than care outside the home. The agency is known for Non-Medical Home Care, Companionship and Homemaker services in New York City's Manhattan, Brooklyn, Westchester, Queens, and Rockland areas. Its focus is on providing person-centered care to help those in need remain in their home, maintain the lifestyle they choose, and feel confident they will be treated with the respect and kindness they deserve.
The post Brooklyn In-home Dementia Care Highlights Strength of Touching Hearts at Home NYC first appeared on PRUnderground.
Press Contact
Name: Craig Sendach

Phone: +1-212-201-6139

Email: Contact Us

Website: https://www.touchinghearts.com/nyc/
Original Press Release.