Sherwood Lumber expands its footprint into specialty products with its premier distributor agreement with Digger Specialties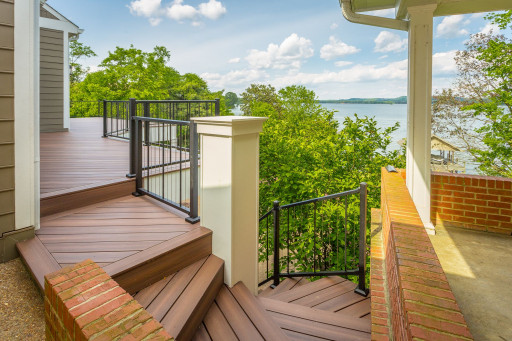 Westbury Aluminum Rail with Verticable
Vertical cable showing off its premium aesthetic while offering a maximum view.
MELVILLE, N.Y. - October 15, 2021 - (
Newswire.com
)
Sherwood Lumber has announced its partnership as a premier distributor of Digger Specialties Inc. This partnership will solidify Sherwood Lumber as one of the most significant distributors of aluminum railing in the Northeast and Mid-Atlantic regions. With Digger's premium product offering, and Sherwood's commitment to inventory on the ground, the two partners should enable the Northeast market in a meaningful way.
Larry G. Boyts, VP of Sales and Marketing for Digger Specialties Inc., stated, "DSI is privileged to have the opportunity to provide our industry-leading Westbury aluminum railing and other building products to Sherwood Lumber. Sherwood's reputation as a major distributor of premier brands of building products, backed by outstanding customer service, perfectly aligns our objective of offering the most innovative products in the marketplace."
"Sherwood Lumber has a vision to lead the industry in exterior and outdoor living products. This vision is fueled by a passion to bring the best products to market and be a part of building beautiful dream homes that surpass our customers' expectations. Digger Specialties has established an impressive space for itself predicated on long-lasting, durable products that are incredibly easy to install and look great on day one and as far into year 50. Sherwood has made the decision to stick our flag in the ground with Digger based on a set of shared values and vision and could not be more excited to begin promoting the brand," said Todd London, SVP at Sherwood Lumber.
ABOUT SHERWOOD LUMBER
Founded in 1954, Sherwood Lumber is a national leader, innovator and solution provider to the Lumber and Building Materials industry. Sherwood Lumber provides customers with value-added services, including just-in-time truckloads, mill direct shipment, forward pricing, risk management, technical support, and superior handling from company-operated facilities. Sherwood Lumber Corporation's family of associates are committed to be the company you prefer to do business with. Our commitment of superior service and quality with the utmost integrity will gain the trust that is essential to a quality business relationship. We will achieve our goals through our continued appreciation and loyalty of our valued customers, suppliers, community and Sherwood Lumber associates.
Press Release Service by
Newswire.com
Original Source:
Sherwood Lumber Expands Its Exterior Building Product Portfolio With Its Newest Relationship, Westbury Railing, a Leader in Aluminum and Vinyl Railing Systems