With COVID cases on the rise again, the care provider helps vulnerable seniors stay safe with in-home socialization, meal preparation, shopping services, and more
(PRUnderground) September 6th, 2021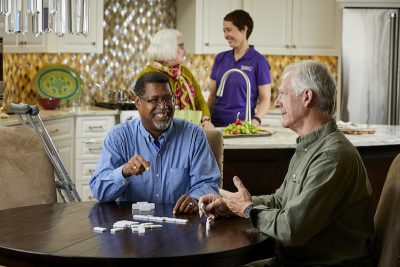 Throughout 2020, Touching Hearts at Home NYC, an award-winning NYC area in-home care provider, helped the elderly in Briarcliff Manor stay safe by allowing them to remain in their homes and avoid the dangers of COVID. And with the Delta variant driving cases up again, Touching Hearts at Home NYC is delivering on its promise to provide quality care to Briarcliff Manor seniors again when they need it the most.
As the CDC and medical professionals launch new guidance on protecting oneself against COVID, seniors again remain a vulnerable population, vaccinated or not. For seniors who want to mitigate the risk of contracting COVID, Touching Hearts at Home NYC offers various services that decrease the chances of contracting the virus while still getting access to the services and socialization they need to thrive.
Touching Hearts at Home NYC's caregivers provide services such as grocery shopping and meal preparation so vulnerable seniors do not have to risk exposure to illness by shopping or dining in public. Additionally, caregivers can offer companionship and socialization so that clients maintain their mental and emotional health during stressful times. From playing card games to watching movies together to engaging in lively discussions about current events, Touching Hearts at Home NYC's skilled and compassionate caregivers ensure that seniors stay safe while navigating the challenges that COVID poses to everyday life.
Whether seniors need care for a few hours a day with drop-in services or around-the-clock support and friendship, Touching Hearts at Home NYC's caregivers can provide the customized care the client needs. They can also arrange transportation services to get to and from appointments so that clients can avoid the risks of taking public transportation as they protect themselves from COVID.
"Throughout the pandemic, the caring staff at Touching Hearts at Home NYC have continued to offer skilled, compassionate care to seniors living at home," said Craig Sendach, owner of Touching Hearts at Home NYC. "Both at the beginning of the pandemic and now, with cases on the rise again, our caregivers are poised to protect our clients' health by delivering critical services that give them the human connection they need and providing services such as meal prep and grocery shopping that limit their potential exposures to the virus."
To learn more about Touching Hearts at Home NYC and its Briarcliff Manor in-home care services to support seniors, visit https://www.touchinghearts.com/nyc/
About Touching Hearts at Home NYC Area
About Touching Hearts at Home NYC Area – Touching Hearts NYC offers in-home care to aging adults, seniors, and individuals living with medical conditions and disabilities at rates considerably more affordable than care outside the home. The agency is known for Non-Medical Home Care, Companionship and Homemaker services in New York City's Manhattan, Brooklyn, Westchester, Queens, and Rockland areas. Its focus is on providing person-centered care to help those in need remain in their home, maintain the lifestyle they choose, and feel confident they will be treated with the respect and kindness they deserve.
The post Touching Hearts NYC Helps Dealing With Rising COVID Cases Easier For Briarcliff Manor Seniors first appeared on PRUnderground.
Press Contact
Name: Craig Sendach

Phone: +1-212-201-6139

Email: Contact Us

Website: https://www.touchinghearts.com/nyc/
Original Press Release.