Skinfly Entertainment's Lyle Howry and Jason Rainwater are excited to announce the launch of "A Prisoner's Path", a series that advocates for prison reforms to ensure inmates fit back into society and reunite with their families upon release from prison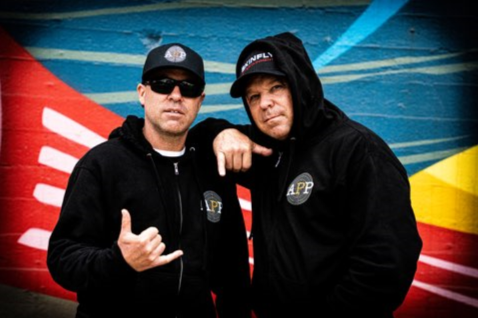 United States - May 20, 2021 —
Typically, persons who have done their time in prison always seem unable to fit into society as normal citizens. For Lyle Howry and Jason Rainwater, this narrative can be changed and inmates can become better even after being a prison. To this end, they have begun the production of a series titled "A Prisoner's Path" advocating for prison reforms in prisons around the 52 states of the United States of America while diving deep into the lives of prisoners and how they transformed from hardened criminals to being better humans.
"A Prisoner Path" is a docuseries on criminal justice reform that depicts a completely different twist. According to Lyle Howry and Jason Rainwater, "We want to show the world, there is still good in people if given the right tools and support with a second chance. It's all about education and "Prison Reform Programs", not just throw people back out to the streets with no path or plan."
From the Penitentiary Marion to Rikers Island to the Louisiana State Penitentiary to Leavenworth Federal Penitentiary to Folsom State Prison and other prisons in the US, supposed hardened criminals can be transformed provided the prison reforms advocated by Lyle Howry and Jason Rainwater in this new series are adopted and duly implemented. The most hardened criminals with the right guidance can become the best of nation builders if only prison reforms will be institutionalized in prisons in the US.
The Federal Bureau of Prisons should offer a new reform program before inmates being released, helping non-violent prisoners, men, and women, to be able to have a trade and therapy when released back into society and reunite with their families and kids to rekindle the relationships they once never had. This is essentially what "A Prisoner's Path" emphasizes, digging deep into the lives of non-violent prisoners to their recovery into the real world again.
About Lyle Howry
Lyle Howry has over thirty years in the entertainment business. Born in Hollywood, California June 19, 1958, Lyle has bounced around from foster homes as a young boy, giving him the independence and innate desire to excel in the face of life's persistent challenges. With a desire to create, Lyle began his career as a producer in 1985, co-producing the two-time Emmy-winning and nominated CBS's "The Dukes of Hazzard" TV series. A few years later he executive produced "Reggie's Prayer" football legend Reggie White's inspirational acting debut. Lyle then joined former Paramount studio head Frank Yablans to release Jon Voight's family drama "A Dog of Flanders" which won a Bronze Gryphon Award and was nominated for a Joseph Plateau Award.
Presently in 2021, Lyle's Skinfly Entertainment has taken on prison reform and is currently in production on a docuseries "A Prisoner's Path" that follows inmate's journey through recovery and to freedom. Lyle is also is currently producing a big-budget action/drama film, "Damaged" that deals with topics on PTSD and human trafficking, to be released worldwide in 2022.
For further information on the docuseries, "A Prisoner's Path", please visit http://www.aprisonerspath.com/.
About Jason Rainwaters
American screenwriter, actor, producer, Jason Rainwater is known for his acting roles with Mel Gibson in Richard Donner's "Lethal Weapon 3" and Steve Miner's "Forever Young". He also co-starred in the "Tales from the Crypt" series - episode "Werewolf Concerto" -opposite Timothy Dalton and Beverly D'Angelo. After being inspired by screenwriter/director Shane Black, Jason focused his career on screenwriting.
His first screenplay "Ghost Dance" was selected into Robert Redford's Sundance Institute Writer's Lab where he developed his screenwriting skills with the top professionals in the Motion Picture industry. Following that, he has scripted several screenplays for film and television on the domestic and foreign market. Among them are, "Saw- tooth" starring Adam Beach and "A Good Man" staring Steven Seagal showing on Netflix.
Contact Info:
Name: Lyle Howry and Jason Rainwater
Email: Send Email
Organization: Skinfly Entertainment
Phone: 213-267-2461
Website: http://www.skinflyentertainment.com/
Release ID: 89017202