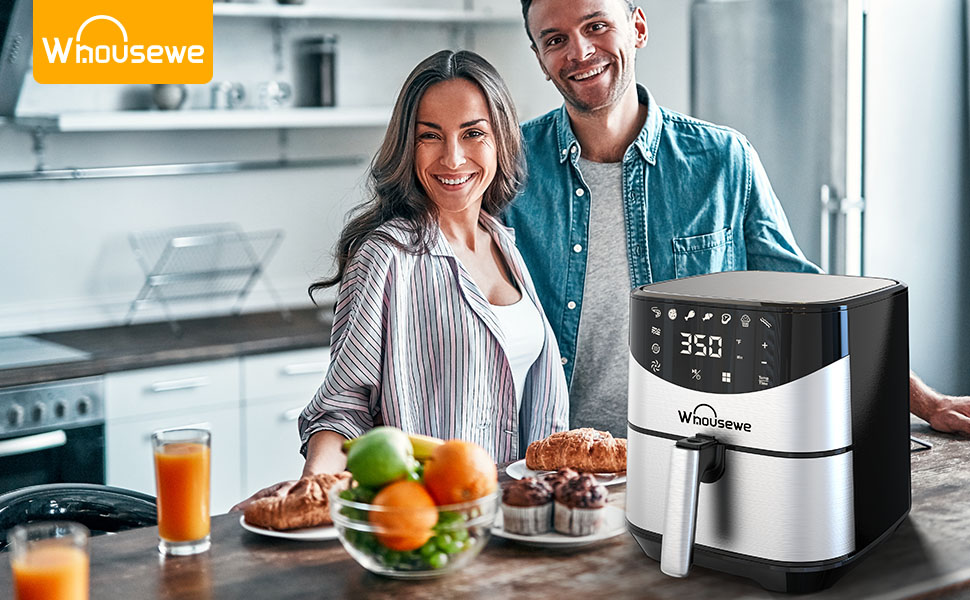 Whousewe is pleased to announce the launch of the Large XL 5.8 QT Electric Hot Oven with a 30% off discount. Thanks to its highly powerful 1700W motor and 360° air convection system, users can enjoy hassle free cooking sessions.
With its extra-Large Capacity of 5.8QT, the Whousewe air fryer provides enough space to cook food for 2-7 people at once. It also comes with an easy & powerful heating function that circulates super-hot air around food to cook your meals faster and more deliciously!
Click here to purchase the Whousewe Air Fryer for $76.99 today. Use Promo code WCBH4Q7K
In addition, it is easy to use and very beginner-friendly. This is made possible by 8 preset menus with precise time settings and temperature control to let you cook like a pro! (32 popular recipes included).
Furthermore, you can clean it in a Snap. Just detach the nonstick metal frying basket from the pan, effortlessly rinse and wipe off the water – or just put them both into a dishwasher.

Above all, your safety is guaranteed. The Whousewe air fryer comes with advanced ETL listed/FDA compliant safety technology for long-lasting durability, equipped with overheating protection and automatic shut-off to ensure safe cooking. 1-year warranty, 100% satisfaction guarantee, try it with no risk.
More features include:
- Memory Function for Convenience
- Use Easily by Presets & LED Screen
- Basket & Pan Nonstick and BPA free
- Built-in Security Protection
- Delicious with Preheat Function
- Wide Temperature for Multi-Food
Whousewe is currently running a promo campaign for its Air Fryer. Check out the details below:
Link: https://www.amazon.com/Whousewe-Electric-Oilless-Recipes-Dehydrate/dp/B08V54NQT3/
Start Date: 2021/5/11 10:00 PDT
End Date: 2021/6/15 23:59 PDT
Code: WCBH4Q7K
Discount: 30% off
With more people looking to adopt healthy lifestyles, cooking with air fryers has been identified as a good start. Since its inception, Whousewe has gradually become the preferred platform for people who are looking to purchase housewares. The company's impeccable customer support team makes it a favorite destination for potential buyers across the world.
Media Contact
Company Name: WHOUSEWE
Contact Person: Media Relations
Email: Send Email
Country: United States
Website: https://www.amazon.com/Whousewe-Electric-Oilless-Recipes-Dehydrate/dp/B08V54NQT3/