Household electronic goods retailers, Cece's Warehouse, available on +1-801-901-0357, have launched the BestCool portable evaporative air conditioner with fan and humidifier.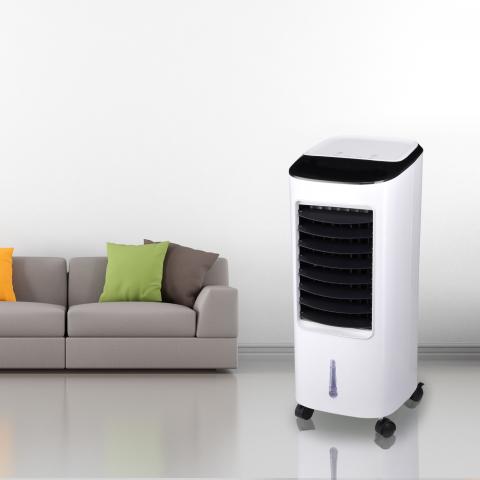 Salt Lake City, United States - May 13, 2021 /NewsNetwork/ —
Cece's Warehouse, a specialist electronic goods retailer with headquarters in Salt Lake City, UT, have launched the BestCool portable air conditioner cooler. The new unit offers customers an alternative to traditional-style fans and air conditioners with its evaporative technology, lower temperatures, higher wind volume and multi-functionality.
For more details please visit https://ceceswarehouse.com/products/bestcool%E2%84%A2-portable-air-conditioner-cooler-fan-evaporator-air-humidifier-v2
The newly launched BestCool air conditioning unit is suitable for indoor use and offers customers optimum efficiency through its 7L water tank and 2 ice boxes, maximizing cooling and humidifying performance.
Evaporative air coolers work by drawing in dry, hot air which is cooled as it makes contact with the water molecules on cooler pads. As the warm air passes over the pads, the water evaporates, causing the air temperature to drop inside the machine, before it blows cooled air back out into the room.
The new BestCool evaporative cooler features a louvered design which provides an automatic left-right swing of 120 degrees and a manual up-down function to enable cooled air to reach all parts of the room as required. The cooler sits on universal swivel casters for convenience of movement around the home or office.
The BestCool air conditioner's fan offers a choice of normal, natural or sleeping modes, along with 3 wind speed settings for optimal adjustability. The unit comes with a remote control and touch screen panel from which customers can adjust the modes and speeds, as well as set a timer with up to 7.5 hours of programming capacity. A removable dust filter ensures the cooled air remains pure as it re-enters the room. This can be washed after use to maintain hygienic functionality.
Cece's Warehouse are experts in electronic household goods, offering customers an expertly curated product range that features everything from air coolers and steam cleaners to exercise machines and car accessories.
According to a company spokesperson, "We work around the clock to find, create, manufacture and ship you the most innovative products. Trust our team of experts to help you stay ahead of the curve and always be on the cutting edge of technology."
Through the launch of the BestCool portable evaporative air conditioner, Cece's Warehouse continue to make advanced household technology available to customers nationwide. For more information visit https://ceceswarehouse.com/products/bestcool%E2%84%A2-portable-air-conditioner-cooler-fan-evaporator-air-humidifier-v2
Contact Info:
Name: Cece's Warehouse
Email: Send Email
Organization: Cece's Warehouse
Address: 4989 S State St #57261, Salt Lake City, UT 84107, United States

Source: NewsNetwork
Release ID: 89003326