(PRUnderground) May 11th, 2021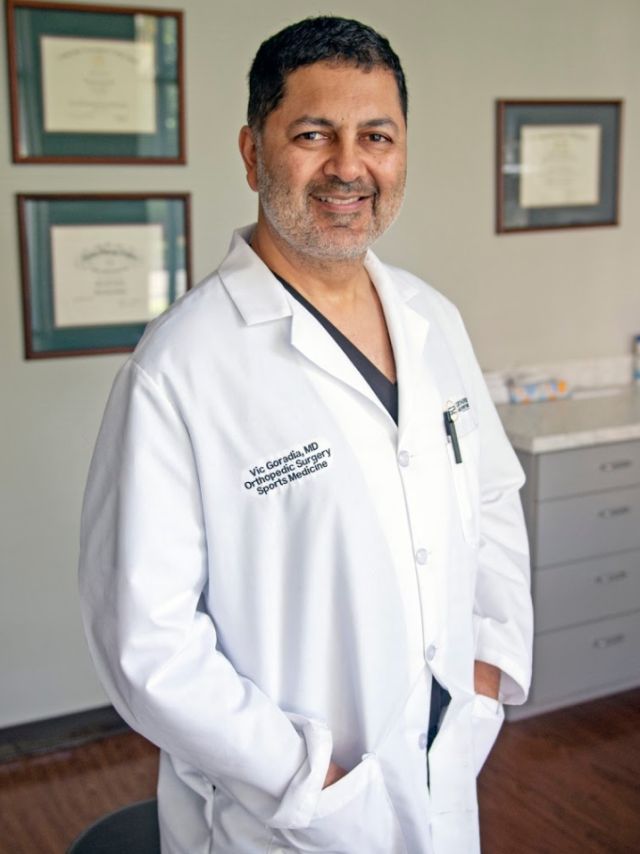 Sports and exercise are exciting activities. These activities help us to lead a healthy life. We tend to push our bodies to different altitudes to perform in sports. However, in some unfortunate instances, it could go wrong. And we may end up with injuries. Sports injuries are sometimes hard to recover. Isn't it good to be aware of the most common sports injuries and their treatment procedures?
We reached out to Dr. Vic Goradia, a 2021 ThreeBestRated® award-winning Orthopedic Surgeon in Richmond, to learn about it. Dr. Goradia shares his experience in treating some of the most common orthopedic conditions:
Knee sprains – Knee sprains including, ACL tears, require arthroscopic surgery. "With new advancements, I am able to perform an ACL Preserve Surgery for about 20% of patients with a torn ACL", says Dr. Goradia.

Meniscus tears – This condition could occur while twisting the knees. Dr. Goradia has co-designed two different meniscus repair devices to treat this condition. These devices have been widely used across the US.

Rotator cuff tears – It happens due to a tear in the tendons around the shoulder joint. According to Dr. Goradia, he can repair 100% of rotator cuff tears with arthroscopic surgery. He is further associated with Dunamis Medical to develop new implants to improve the surgery.

Knee arthritis – It is a pretty common condition. Dr. Goradia uses several procedures, such as stem cell injections, Lipogems injections, and computer-guided partial and total knee replacements, to treat this condition.

Shoulder arthritis – Its treatment procedures are similar to knee arthritis. In addition to stem cell injections and Lipogems injections, Total and Reverse total shoulder replacement surgeries are performed to treat the condition.
Dr. Goradia further explains, "As the surgical techniques have improved, all of these surgeries can now be performed on an outpatient basis without a hospital stay."
About VIC GORADIA, MD – G2 ORTHOPEDICS AND SPORTS MEDICINE
Dr. Vic Goradia is an expert in arthroscopic surgery, sports medicine, and joint replacement. His prime focus lies in the treatment of shoulder and knee conditions. He is a nationally recognized orthopedic surgeon and is proud to be Board Certified in Orthopedic Surgery with a Certificate of Added Qualifications in Sports Medicine. Dr. Goradia is the founder and owner of the G2 Orthopedics and Sports Medicine Hospital. With award-winning doctors, Advanced technology, and expert care, Dr. Goradia's practice is one of the best in the city.
Dr. Goradia is a recipient of various awards for his excellence in orthopedics. He has been a ThreeBestRated® award-winner for over three years in a row. He proudly says, "This is a great honor as I know that ThreeBestRated is a prestigious recognition of excellence in Orthopedics in Richmond, VA." Dr. Goradia plans to expand his practice in the future. He says, "Our practice will continue to grow in 2021 as our new foot and ankle surgeon, Dr. Chu, provides the latest cutting edge treatments for foot and ankle conditions. In the next year, we are also recruiting for another orthopedic surgeon to join the practice."
About ThreeBestRated
Three Best Rated® was created in 2014 with the simple goal of finding the top 3 local businesses, professionals, restaurants, health care providers, and everything in-between, in any city. Every business is meticulously handpicked by our employees. We check business's reputation, history, complaints, ratings, proximity, satisfaction, trust, cost, general excellence, reviews, and more, using our 50-Point Inspection. We only display businesses that are verified by our employees. Other places will call this "hard work" and "unnecessary". We call it "due diligence" and "the right thing to do". Our website is updated on a regular basis for quality and the latest business information.
Three Best Rated has the honor of helping 4 million customers every month find the best businesses in any city – without any effort!
The post Dr. Vic Goradia, a 2021 ThreeBestRated® Award-Winning Orthopedic Surgeon, Shares His Experience in Treating Sports Injuries first appeared on PRUnderground.
Press Contact
Name: David Brown

Phone: (833)-488-6888

Email: Contact Us

Website: https://threebestrated.com/
Original Press Release.