Why Are Bank Stock ETFs Climbing So High?
May 07, 2021 at 09:10 AM EDT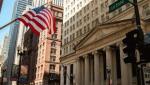 Confirming the intensity of bank stocks' rally, the Invesco KBW Bank ETF (NASDAQ: KBWB) is higher by almost 34% since the start of 2021. A performance like that through barely more than four months may be enough to chase some late-arriving investors off, prompting them to think upside for...