The ESP32-CANBus modules by Copperhill Technologies, with their integration of WiFi, Bluetooth, and Bluetooth LE, allow a wide range of employment, including industrial, automotive, maritime, and Internet of Things (IoT) applications. The ESP32 series of modules support an extended operating temperature range of -40°C to 85°C and are suitable for commercial application development.

GREENFIELD, Mass. - May 4, 2021 - PRLog -- The ESP32 is a series of low-cost, low-power system-on-chip microcontrollers with integrated WiFi and dual-mode Bluetooth. The ESP32 series employs a Tensilica Xtensa LX6 microprocessor in both dual-core and single-core variations and includes built-in antenna switches and an RF balun power amplifier, low-noise receive amplifier, filters, and power management modules.

The ESP32 WiFi, Bluetooth Classic, BLE, CAN Bus Module comes with an onboard ESP32 WROOM-32 WiFi, Bluetooth Classic, BLE Module, and a CAN Bus port with a transceiver. Onboard is an RGB LED, IO pins on a 0.1" pad.

Features
240 MHz dual-core Tensilica LX6 microcontroller with 600 DMIPS
Integrated 512 KB SRAM
Integrated 802.11b/g/n HT40 WiFi transceiver, baseband, stack and LWIP
Integrated dual-mode Bluetooth (classic and BLE)
4 MByte flash included in the WROOM32 module
Onboard PCB antenna
Programming via USB-C connector
CAN Bus transceiver
SPI, IIC, I2S, UART ports accessible through onboard connections
ADC, DAC channels accessible through onboard connections
External power supply range of 4.5VDC to 46 VDC (nominal: 12 VDC) with reverse polarity protection
Extended operating temperature range of -40C to +85C
The ESP32 WiFi, Bluetooth Classic, BLE, CAN Bus Module With 3.5" Touch LCD
comes with onboard ESP32 WROOM-32 WiFi, Bluetooth Classic, BLE Module, and a CAN Bus transceiver.
Also built-in is an RGB LED plus a 3.5" capacitive touch screen controlled via SPI bus.
The programming is achieved through the USB-to-Serial converter with a USB-C connector, automatic bootloader, and reset.
The board can be powered by the USB port or via an external 7 to 24 VDC supported by the onboard SMPS supply.
Features
240 MHz dual-core Tensilica LX6 microcontroller with 600 DMIPS
Integrated 520 KB SRAM
Integrated 802.11b/g/n HT40 Wi-Fi transceiver, baseband, stack and LWIP
Integrated dual-mode Bluetooth (classic and BLE)
4 MByte flash include in the WROOM32 module
Onboard PCB antenna
Programming via USB-C connector
CAN Bus transceiver
480x320 3.5" capacitive touch screen
RGB LED
Power by USB or external 7 to 24 VDC with onboard SMPS supply
Both modules come with extensive documentation, i.e., user manual, schematics, and programming samples.
Copperhill Technologies Corporation's focus is on the development and sales of embedded systems for Controller Area Network, SAE J1939, and NMEA 2000. Copperhill Technologies is a member of SAE (Society of Automotive Engineers) and NMEA.
Contact
Wilfried Voss
***@copperhillmedia.com
4132132500
Photos: (Click photo to enlarge)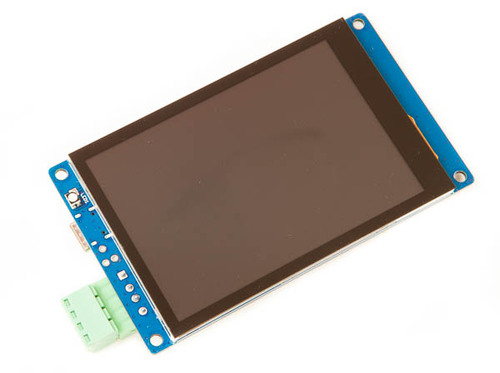 Read Full Story -
Internet of Things (IoT) Gateway Converts CAN Bus Data to WiFi, Bluetooth, BLE
|
More news from this source
Press release distribution by PRLog