Can the Consumer Staples Sector Steady Your Portfolio?
April 06, 2021 at 14:20 PM EDT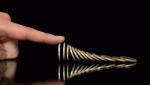 With so much talk about the reflation trade and cyclical stocks coming back into focus, defensive sectors like consumer staples are lagging. However, conservative investors and retirees can find opportunities with assets like the Consumer Staples Select SPDR Fund (NYSEArca: XLP). XLP seeks to...