Are Your Small Cap ETFs Truly 'Entrepreneurial'?
March 11, 2021 at 09:45 AM EST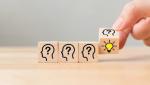 Even with some recent weakness in equities, small caps and foreign stocks remain appealing. That script underscores the continued allure of the ERShares NextGen Entrepreneurs ETF (ERSX). ERSX selects the most entrepreneurial, primarily Non-US Small Cap companies, that meet the thresholds embedded...