Seeking Mid-Cap Value ETFs In All The Wrong Places?
November 16, 2020 at 12:44 PM EST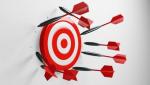 Mid-cap equities investors are well-aware of the benefits they bring. With an ability to cushion market downturns like a large cap and bring upside growth opportunities like a small-cap, ETFs like the iShares Russell Mid-Cap Value ETF (IWS) can be stellar options. The sector rotation out of...