UniteOurNation is initiating a day of prayer on election day. Catholics and people of faith throughout the U.S. can offer prayers and participate in adoration at local churches.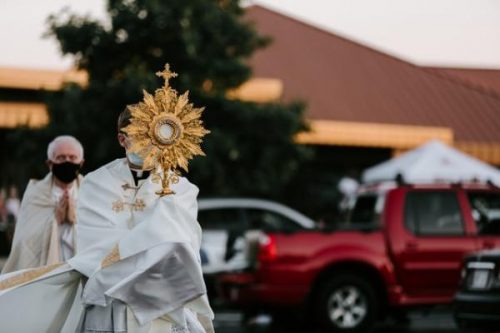 Hartland, United States - October 22, 2020 /NewsNetwork/ —
Across the nation, people are anxious, neighbors against neighbors, with polarizing statements all over social media and the airwaves. The cry and question in the heart of average citizens is "what can we do?"
As people of faith, Unite Our Nation is inspired to dedicate an election day of prayer and adoration. There is no better way to ask for God's grace.
Catholics and other people of faith throughout the U.S. can offer prayers, beg for mercy, and be in the calming, loving presence of Jesus. The suggestion is to begin adoration right after morning mass, and conclude with Benediction when the polls close in any particular state or time zone. While many people cannot participate for the full day, any amount of participation will be of inestimable value,
Unite Our Nation was founded by laity, with the purpose of bringing prayer and peace to communities and healing to the nation. Therefore, this is a laity-led effort, planned by local organizers.
All interested laity who might want to organize a local event are encouraged to go to the site https://uniteournation.net/resources/ for all the resources needed, including a planning guide, suggested prayers, sign up sheets, promotional flyers and bulletin announcements. Even if a community already has something planned, the resources can be used to supplement the current effort and bring more blessings to the community and country.
This short video gives a good overview of UniteOurNation and the resources available for local communities who want to put on their own event. https://youtu.be/GQOnF4MjWC4 There is a plethora of information and a number of videos at the site.
Speakers, Bishops, and priests will be part of the local event, as determined by each sponsoring location. A participant in a former event noted, "This is a time for prayerful reflection—a time to give witness to others that even in difficult times people of all races and beliefs can come together under the watchful eye of Our Lord through the intercession of the Blessed Mother."
For further information and all the resources needed to initiate an event in your local area and to communicate with your local priest or pastor, go to http://uniteournation.net
Election day is fast approaching and the time to initiate this is today. This is laity-led, laity-organized, in conjunction with local priests or pastors who are contacted by the laity.
The goal is to unite the country in prayer on election day. The call is now.
Contact Info:
Name: Helen Flanagan
Email: Send Email
Organization: Unite Our Nation
Address: P.O. Box 319, Hartland, WI 53029, United States
Website: https://uniteournation.net/
Source: NewsNetwork
Release ID: 88981878