What's the Ceiling for the U.S. Dollar Rally?
September 24, 2020 at 10:41 AM EDT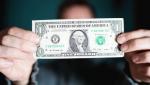 The U.S. dollar is making a comeback as of late even when market uncertainty surrounding events like Covid-19 and the forthcoming presidential election should be feeding into more strength for gold. The rally has analysts wondering what the ceiling is for the greenback and whether it's...