Could Rising Inflation Derail Stock ETFs?
August 12, 2020 at 12:34 PM EDT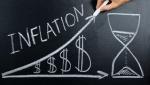 Stocks are rallying higher despite a potential spike in inflation, as evidenced by the Consumer Price Index. Consumer prices excluding food and energy climbed the most in July in nearly 30 years. While the unexpected increase is a concern that inflation could be ramping up, economists also note...