With USO Down And Crude Crashing, Which Oil ETFs Should Investors Consider?
April 21, 2020 at 15:52 PM EDT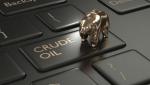 In an unprecedented day of trading on Monday, the price for the May contracts in West Texas Intermediate crude oil destroyed all market value, breaking every low for oil prices since 1946. The CME ex permitted the futures contract to trade below zero, with markets trading as low as nearly an...