Amerimold, the only North American trade show focused on the entire moldmaking process, opened Early Bird registration today.
(PRUnderground) February 10th, 2020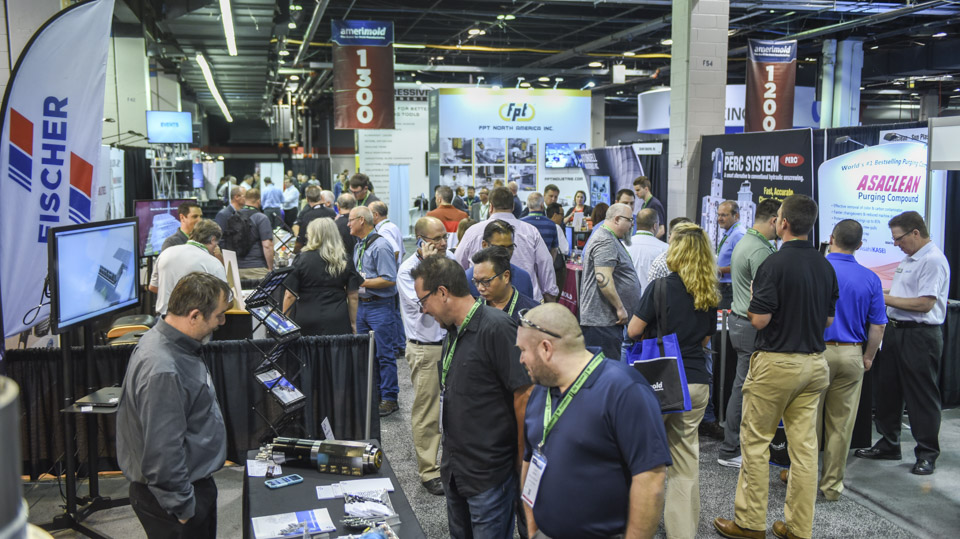 Amid positive economic news in the mold manufacturing sector, Amerimold: The Event for Mold Manufacturing announced today that registration is open for this annual event. The 2020 edition will take place June 10-11 at the Suburban Collection Showplace in Novi, MI.
There's positive news coming in from recent moldmaking surveys, which should give mold builders much to be excited about in future months. According to Michael Guckes, Gardner Business Intelligence's Chief Economist, "New orders and production activity have been growing in the last two months. 'New orders' is particularly important because other components of the molding sector usually respond in kind to changes in new orders. Specifically, when new orders activity expands, it is usually followed by an expansion in production, then supplier deliveries and lastly employment. These shadow moves usually occur between 1-5 months after a change in new orders. This could, therefore, be very good news in 1Q2020 results."
Amerimold will connect more than 3,000 of the top owners, executives, and engineers involved in the complete lifecycle of the design, manufacture and maintenance of a mold. The event includes an exhibit hall, a diverse collection of Amerimold Tech Talks, and various production sourcing events.
Pre-registration extends through May 1st, and includes:
Complimentary Amerimold exhibit hall passes
Free show floor education sessions
Multiple networking events
Access to the Sourcing Fair, where mold builders and molders can connect with OEM and tier suppliers looking to buy molds and molding capabilities
Amerimold visitors will have an opportunity to see and learn about technology and services offered by machine tools, materials, tooling, software and components suppliers. The Amerimold Tech Talk series and live in-booth demos return to the show floor in Novi, allowing attendees to learn about the evolving processes and techniques that are shaping the future of mold manufacturing.
Amerimold will capitalize on the upswing in moldmaking business by offering the second annual Amerimold Sourcing Fair, which will connect major OEMs and tier suppliers to North American molders and moldmakers directly on the show floor. This one-of-a-kind event is unique to Amerimold and gives exhibitors and attendees an unmatched opportunity to better their business.
Event registration and details are available at www.amerimoldexpo.com.
For more information, contact Tarah Rauch, Registration Manager, at 513-527-8800 or info@amerimoldexpo.com.
About Amerimold
Amerimold is North America's premier event for mold manufacturing. Presented by Gardner Business Media, in partnership with MoldMaking Technology, Plastics Technology and Modern Machine Shop, amerimold connects global and domestic technology leaders involved in all aspects of mold manufacturing.
www.amerimoldexpo.com
Press Contact
Name: Dan Sweatt

Phone: 513-527-8800

Email: dsweatt@gardnerweb.com

Website: http://amerimoldexpo.com
Original Press Release.