Can Robots Save Brick-And-Mortar Retail Stores?
February 10, 2020 at 10:55 AM EST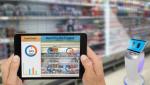 With the trend of consumers increasingly heading to online stores to get their shopping done, brick-and-mortar retailers aren't going down without a fight. They're bringing in disruptive technology like robots to help entice shoppers to head out of the safe confines of their homes and back into...