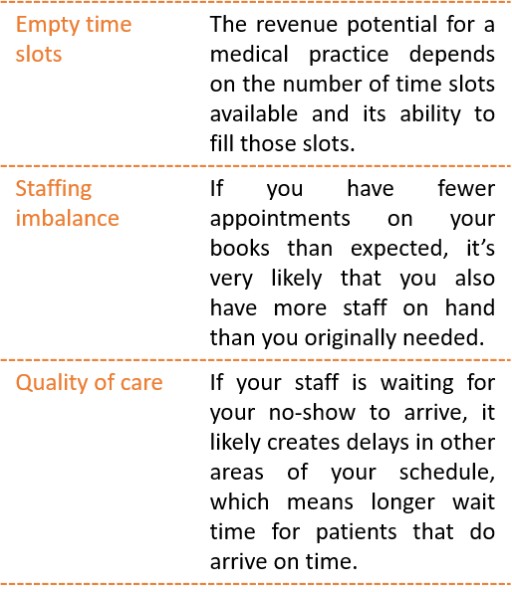 HOUSTON - October 28, 2019 - (
Newswire.com
)
​​​It can be very discouraging when patients fail to follow through on their medical recommendations. This is especially true in cases where critical services, like dialysis or chemotherapy, are concerned. Here are some of the most common reasons patients fail to show:
Cost

 - In some cases, the co-pay or other out-of-pocket expenses are enough to deter patients from showing up.

Nervousness

 - Patients may be nervous about an upcoming procedure or they may not think providers care enough to worry about them when they don't show up.

Forgetfulness

 - It's very common for patients to forget their scheduled appointment times, especially when patients are suffering from age-related cognitive decline.

Transportation

 - Lack of reliable transportation accounts for an estimated 67% of patient no-shows, especially for patients who aren't able to drive themselves or are wheelchair-bound.
How to implement an effective no-show program:
1. 

Implement a reminder system
Seventy-eight percent of patients who don't show up for an appointment also don't confirm their appointments. Based on recent studies, 98% of patients replied to text reminders versus only 20% for emails. Hence, for a reminder system to be effective, it should have the ability to send text messages to patients.
2. 

Simplify scheduling
No scheduling system is complete without robust data, for instance, being able to track cancellation at the patient level is important as a pretty strong predictor of a patient no-show is a history of missed appointments. As one looks into the data, they will likely notice that 80% of no-shows are actually due to 15% to 20% of patients. This is important because as a practice puts in place policies and a scheduling system, they only need to customize it to the behavior of that minority of patients causing the majority of no-shows.
3. 

Create a rewards program
As they say, you get more with honey … most practices penalize patient no-shows by charging a small fee on their bill that remains until they schedule and keep the new appointment. It's hard to tell if this really works unless the fee is large enough to warrant a reaction. Instead of fees, consider rewarding patients who keep their appointments and arrive on time with a small discount on their bill or prizes. One option is to provide incentives for prepaid appointments.
4. Partner with a local patient transportation provider
Sixty-seven percent is the percentage of patients citing transportation as the reason for their no-show. Depending on the patient's unique situation, one may have needs that require a particular type of service. For example, non-emergency medical transport companies often have two separate fleets: one is for the transportation of ambulatory patients and the other is reserved for significantly disabled or wheelchair-bound individuals.
At Medbridge Transport, we understand that no "no-show" program is complete without taking a holistic view of the problem. That is why our solution includes both (1) Patient Transportation and (2) Automated Reminders.
Press Release Service by
Newswire.com
Original Source:
Implementing an Effective Patient No-Show Program: Medbridge Transport Tells You How