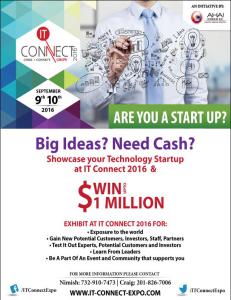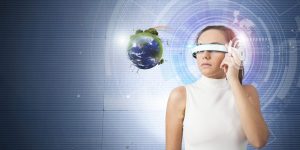 Showcase your Startup to professionals, entrepreneurs, and community members; and engage with like minded professionals, pitch to investor community & network.
Come... Connect... Grow
— Kadakia, IT Connect
EDISON, NEW JERSEY, UNITED STATES, August 31, 2016 /
EINPresswire.com
/ -- Launched by New Jersey based IT Connect, this event is designed to assemble professionals from different industry sectors to learn more about technology and share new technological advances and best practices with one another. IT Connect aims to bring together the top talent entrepreneurs with seasoned professionals and visionary investors─ to innovate and fund the next wave of technological advances that will change the world!
For the aspiring entrepreneur, there is the opportunity to participate and compete in "
Start-Up Challenge
" and connect with investors and Venture Capitalists. This opportunity is meant to provide a platform for individuals with great ideas- to help them bring ideas from concept to reality.
Nimish Kadakia, Chairman of IT Connect stated: "This innovative event provides a space to establish new business contacts and reconnect with old ones. The educational sessions will provide information from well known speakers and help take your business to the next level. Register your business today to win our entrepreneurship awards and reach out to the investor community for up to million dollars in funding."
Harry Mehta, Co-Chair of IT Connect stated: "We will showcase and share hands on experiences with tomorrow's technology today… and the most interesting part of the Expo will be tech gadgets on display at the VR Arena."
IT Connect provides an open forum to drive forward development in several key areas:
• Educate & Develop Tomorrow's Technology Leaders
• Highlight Industry Trends Through In-Depth & Targeted Panel Discussions
• Empower Women To Move Forward In Technology Based Careers
• Provide The Support Necessary For IT Innovation & Start-Ups
• Showcase Emerging Technologies & New Innovation
B2B Networking
Connect with industry experts, meet leading innovators and get first-hand knowledge of their products and services.
Job Fair
Come and connect with top notch companies, network with recruiters and learn firsthand what it is like to work in the tech industry.
Tech Gadgets Display
Come to see the coolest, latest technology before it hits the shelves. Introduce children to the next best thing and make them a part of this incredible Virtual Reality experience. Companies and individuals are invited to showcase and submit their technological creations and win million dollars in funding.
For Exhibitors:
This event provides great exposure to businesses, professionals, and technology students. Scout the best talent in the industry, as more than 5,000 attendees are expected to visit. Get an edge in this competitive landscape, and stand out to attract rising talent and professionals.
Where & When:
Garden State Convention Center
50 Atrium Drive
Somerset, NJ 08873
United States
Tel: +1(732) 321-1630
Hours: Sept 9 (Fri): 12pm to 7pm - Sept 10 (Sat): 9am to 7pm
Visit Website:
www.IT-Connect-Expo.com
Media Contact:
Craig Schlosser
Click Here To Register
About IT Connect:
IT Connect is a New Jersey based LLC, and are the creators of IT Connect 2016 Expo─ the largest Information Technology Expos in the state of New Jersey.
Anant Goel
www.LeRumba.com
(732) 224-0445
email us here