Amerimold, The Event for Mold Manufacturing, closed last week at the Suburban Collection Showplace in Novi, MI. The two-day tradeshow, technical conference and networking event featured more than 3,000 participants, representing every aspect of the plastic injection molding cycle.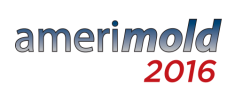 The Amerimold exhibit hall was the largest ever and included 200 exhibitors displaying products and services used for designing, building, injection molding and maintaining molds.
"2016 exceeded all of our expectations. More importantly, the record number of exhibitors reaffirmed the strength of the industry, especially in the Great Lakes region," said Show Manager, David Necessary.
The 2016 Amerimold technical conference expanded from its traditional ENGINEER, BUILD, MAINTAIN to include a new MOLD track focusing on process issues related to both molders and moldmakers. More than 40 industry experts presented on technologies ranging from mold design and data driven manufacturing to automated machining and advanced mold maintenance strategies.
This year Amerimold was co-located with the Thermoplastic Composites Conference for Automotive (TCC Auto). Presented by CompositesWorld, Automotive Design and Production, and Plastics Technology, the conference featured presentations from materials and equipment suppliers, including new innovations in composites molding, such as injection overmolding and compression molding.
Amerimold 2016 also continued its annual traditions. The "Top 10 Reasons to be a Moldmaker" and accompanying t-shirt were unveiled at the Moldmaking Technology booth, and the Leadtime Leader Award winners were announced. This year, the honor went to Krieger Craftsmen from Grand Rapids, Michigan.
The 2016 show closed with the announcement that Amerimold will be returning to Rosemont, IL's Donald E. Stephens Convention Center, June 14-15, 2017.
About Amerimold
Amerimold is North America's premier event for mold manufacturing. Presented by Gardner Business Media, in partnership with MoldMaking Technology, Plastics Technology and Modern Machine Shop, amerimold connects global and domestic technology leaders involved in all aspects of mold manufacturing.
www.amerimold.com
Read full release at PRUnderground.com: Amerimold 2016 Closes on Record Crowds.