FlipHTML5 recently introduced the enterprise edition of the HTML5 digital publishing platform on its website. In addition to a free version, the software is also available to users who purchase a Pro plan, Gold Plan, or Platinum Plan, with each giving access to increased numbers of features.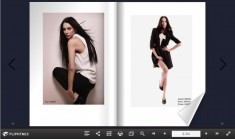 Users who purchase the new enterprise edition of the flipbook creator from FlipHTML5 not only pay a low, one-time fee to own the software, they also get features that are not available with other versions. They include the ability to have 10 independent users at a time, which is an essential feature for businesses with teams of publishers, and being able to create publications with unlimited number of pages.
Additionally, the enterprise edition comes with unlimited access to user statistics, unlimited storage and unlimited uploads to the FlipHTML5 cloud. Storing flipbooks offline is also a supported feature of the new enterprise edition, allowing digital publishers to use, share and store their creations anywhere they choose to.
The enterprise edition of FlipHTML5's flipbook maker also comes with enhanced capabilities to create and customize publications. Users can quickly develop flipbooks using the well-known PDF converter feature or create them from scratch using numerous templates. Its advanced animation editor also enables users of the software to make their publications even more interactive and engaging.
FlipHTML5's new enterprise edition for its flipbook maker is suitable for both individuals and businesses who want to take their digital publishing activities to the next level. It is available in both Windows and Mac versions, as well as a mobile app for iOS devices.
Contact information
Website: http://fliphtml5.com/contact-us/
About FlipHTML5
FlipHTML5 Software Co. Ltd. is a world leading provider of digital publishing software. For many years, They have focused on the research and development of outstanding range of e-publishing software for users around the world. Furthermore, they offer customized solutions for publishers in different industries.
Read full release at PRUnderground.com: FlipHTML5 Launches Enhanced Enterprise Edition for Flipbook Creator.