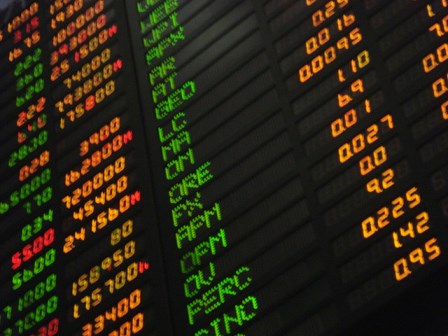 Stock market today, March 28, 2014: At the closing bell, the Dow Jones Industrial Average rose 58.8 points to finish at 16,323.0. The Nasdaq increased 4.5 points to finish at 4,155.7, while the S&P 500 rose 8.5 points to close at 1,857.6.
Investors are looking forward to next week, with a huge March jobs report slated for Friday, April 4.
Besides a rise in the Dow Jones, today's top five market stories included the following:
Heading for the Exits:

According to research by

Merrill Lynch

, investors are cashing out of their positions in healthcare and biotech at a staggering pace. The company reports that weekly outflows from the sectors have reached their heaviest pace since December 2011. The Nasdaq Biotechnology Index has slipped nearly 14% from an all-time high set in February 2014.

Safety First:

In an effort to resolve concerns about potential fires in its vehicles,

Tesla Motors Inc. (Nasdaq:

TSLA

)

announced it will install titanium battery shields and an aluminum deflector plate to the underbody of its Model S luxury electric cars. The move comes in response to investigations by the National Highway Traffic Safety Administration over past fires and other safety defects. With the NHTSA investigating the

General Motors Co.

(NYSE:

GM

)

recalls, the cautionary move makes sense as increased regulatory pressures are expected. Shares of Tesla jumped more than 3% Friday.

Breakfast Wars:

In an effort to stave off challenges in the fast-food breakfast market from Taco Bell and other competitors,

McDonald's Corp.

(NYSE:

MCD

)

has responded with a perk of its own: free coffee. The company will offer free McCafe breakfast coffee for two weeks, from March 31 through April 13, in an effort to boost sales after a sales slump hurt its bottom line. Shares increased more than 1% on Friday.

Battle in the Skies:

On Friday,

American Airlines Group

(NYSE:

AAL

)

had pilots of its regional carrier American Eagle unit reject an important labor contract, setting the stage for a possible strike in the summer. According to union leaders, pilots were unsatisfied by the company's demand for pay freezes and medical benefits cuts. The move comes at a time when pilots are at odds with the company over its planned merger with

US Airways Group (NYSE:

LLC

)

.

Turnaround Makes Progress:

Shares of

BlackBerry Ltd.

(Nasdaq:

BBRY

)

slipped by more than 1% on Friday after the company reported a fourth-quarter loss of $423 million or $0.80 per share. Despite the loss, Executive Chairman and Chief Executive Officer John Chen said he's very pleased with the progress of the company's turnaround and is expecting that the company will experience break-even cash flows by late 2015.
Friday's Top Three Profit Opportunities
Cash In Big on Russia's Tech Market:

Most retail investors just about stampede their way out of "bad-news" stocks that get hammered down to ridiculously cheap levels. For shrewd investors, this kind of situation creates a double-barreled winner... And Bill Patalon has one for you today...

The Secret Behind This Controversial Industry's Leader:

As a long-time tech-investing analyst, Michael Robinson has one of the best vantage points in the country for tracking profitable marijuana industry trends. Clearly, the industry is growing rapidly, and there's big money to be made... especially if you hear about its best profit play today...

Do This Now:

If you're a small-cap investor, you need a strategy. History is full of examples where small-cap companies flamed out, leaving investors holding the bag for a stock that didn't quite sizzle. But if you need a strategy that will minimize risk and maximize your upside, look no further than Sid Riggs' strategy to help you win big in the months ahead.
Tags:
dow
,
Dow Jones
,
Dow Jones Industrial Average
,
dow jones this week
,
dow jones today
,
dow today
,
investing in 2014
,
Investing in the stock market
,
Investing Today
,
market crash
,
market news
,
market news 2014
,
post-market report
,
stock market 2014
,
stock market crash
,
stock market news
,
stock market news 2014
,
stock market news today
,
stock market now
,
Stock Market Today
,
stock market trend
,
stock market trends 2014
,
stock market trends this week
,
stock news
,
stock news 2014
,
Stocks
,
stocks 2014
,
Stocks to Buy
,
Todays Stock Market
,
U.S. Economy
,
Wall Street
The post Dow Jones Today Ends Up, with TSLA, AAL, and BBRY in Focus appeared first on Money Morning - Only the News You Can Profit From.