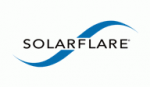 IRVINE, CA -- (Marketwire) -- 11/09/11 -- Solarflare, the leader in application-intelligent 10 Gigabit Ethernet (10GbE) networking hardware and software, today announced it is collaborating with Fusion-io, Inc., (NYSE: FIO), pioneer of shared data decentralization, on common solutions for customers that accelerate applications. A new member of Fusion-io's Technology Alliance Program, Solarflare's products, paired with Fusion-io products, minimize latency and increase application performance, addressing the growing need to access large amounts of data in real-time across the network.
Social media and other data intensive applications are forecast to generate zettabytes of data residing in both structured and unstructured databases. According to IDC, the amount of information created and replicated will surpass 1.8 zettabytes (1.8 trillion gigabytes)(1) in 2011. With advancements in data search and analytics, web object caching and search, and data retrieval provided by such technologies Hadoop/HDFS, MapR, Memcached, and PCIe based flash, customer applications are now inhibited by network I/O performance.
Solarflare's application-intelligent 10GbE solutions deliver the lowest-latency and highest-throughput Linux kernel and Microsoft Windows performance. The server adapters also support the latest Layer 2/3 smart flow management features, which enable Solarflare products to intelligently match network performance through the server to the specific requirements of the customer. For example, building on the previous receive packet steering (RPS) and receive flow steering (RFS) work from Google, Solarflare is the first vendor to deliver Linux kernel hardware acceleration for RFS. Using accelerated flow steering, Solarflare 10GbE adapters uniquely match traffic flows deterministically to specific server CPU cores in order to optimize application performance.
"We're honored to have Solarflare join our TAP program," said Tyler Smith, VP of Alliances at Fusion-io. "Fusion's ioMemory-based hardware and software solutions move process-critical data into the servers to where application processing occurs. This minimizes latency and maximizes performance to increase value to our customers' end-users, while lowering infrastructure, capital and operating costs. Solarflare's application-intelligent 10GbE products solve a similar problem on the network I/O side, by increasing application performance and reducing application latency. Under the Fusion-io TAP program, we will work together on product compatibility, integration and support, enabling us to provide a better overall experience to our shared customers."
"With the growth of big data applications and customer adoption of Fusion-io PCIe flash products, the network has become the bottleneck. By accelerating network I/O, increasing throughput and decreasing latency, Solarflare unlocks the processing power of today's servers for analytics," said Bruce Tolley, vice president of solutions marketing at Solarflare. "We look forward to working closely with Fusion-io to deliver great solutions to our common customers. Customers will now be able to more easily install our smart 10GbE networking products and move applications closer to the network with our common solutions."
(1)IDC iView "Extracting value from chaos," June 2011, John Gantz and David Reinsel, http://www.emc.com/digital_universe
About Solarflare's products
Designed from the ground up to support high-performance, low-latency, cut-through application performance, Solarflare's 10GbE adapter and software solutions dramatically improve virtualized network I/O performance. Its adapters' scalable virtualization architecture supports up to 1,024 vNICs per port, offering the ability to parse traffic at Layer 2 or Layer 3, and consume less than 2.5 Watts per port.
Availability
Solarflare's solutions are the most frequently used on Wall Street and are available through 36 VARs worldwide, and sold through Dell, HP and IBM third-party hardware programs.
To receive an RSS feed for all of Solarflare's news, please visit http://live.lewispr.com/solarflaresd/ and click on subscribe.
About Solarflare
Solarflare is the leading provider of application-intelligent networking I/O products that bridge the gap between applications and the network, delivering improved performance, increased scalability, and higher return on investment. The company's solutions are widely used in scale-out server environments such as high frequency trading, high performance computing, cloud, virtualization and big data. Solarflare's products are available from leading distributors and value-added resellers, as well as from Dell, IBM, and HP. Solarflare is headquartered in Irvine, California and has an R&D site in Cambridge, UK.
For more information, please visit www.solarflare.com
All product and company names herein may be trademarks of their registered owners.
Add to Digg Bookmark with del.icio.us Add to Newsvine
Katelyn Perkins / Brittney Wolff
LEWIS PR for Solarflare
619-677-2700
Email Contact

Nicole E. Martin
Solarflare Communications
415-860-9194
Email Contact