Get Taxi Launching in London. This Is Way Beyond Uber.
July 19, 2011 at 10:03 AM EDT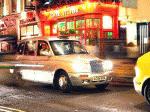 You wanna bitch about valuations and call this a bubble? Go ahead. I, for one, love that a flood of we-can-do-anything enthusiasm fueled by seemingly infinite cheap venture capital is disrupting all kinds of annoying, antiquated corners of the real world. Groupon is changing local business in a fundamental way, Airbnb is disrupting hotels and of course in San Francisco and New York, Uber has given people willing to pay just a little more a superior taxi experience. But-- as much as I love Uber-- a new Israeli-based startup called Get Taxi is so ambitious it makes math-based, complex Uber look like a lemonade stand.