Gnonstop Gnomes Appear On iPhone And Android. Don't Try To Stop Them.
June 20, 2011 at 14:00 PM EDT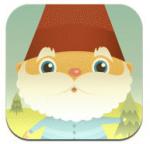 The Gnonstop Gnomes are here and they cannot be stopped. Gnonstop Gnomes is the first mobile app to come out of Churn Labs , Omar Hamoui's product lab that he started after he left AdMob/Google. Hamoui demoed Gnonstop Gnomes at Disrupt NYC (see video below) and today the app is available both in iTunes and the Android Market . The app is a real-world social game and photo-sharing app. You create a Gnome, insert him in different pictures, and record his journey via GPS. The fun part starts when you pass your Gnome onto a friend. You do this with a new gesture Churn Labs invented called Lyft. Using your phone's camera lens, you can "lyft" a gnome from another screen to yours and help him continue his journey. Anyone who has touched a gnome can follow his adventures and photos as he moves around the world.