With Version 2, Lissn Quiets The Noise And Focuses On Individuals. But Is It Too Quiet?
March 24, 2010 at 05:33 AM EDT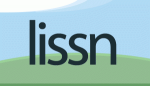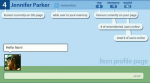 When Lissn launched at TechCrunch50 this past year, it had what seemed to be a hot basic premise: Twitter meets Google Wave . Unfortunately, as time has proven, Google Wave has yet to catch on in a meaningful way, as it's too noisy for most people. And in many ways, the first version of Lissn seemed a bit too noisy. With the latest version launching today, the team has simplified things a lot. Whereas the first version was based around specific conversations, Lissn 2.0 is entirely based around individuals. It doesn't matter what they're talking about, only who they are, and that you might be interested in having a conversation with them, or listening in on the one they're having. In fact, the only pages that exist on the site now beyond the list of all users online and the list of your favorite users ("memory," as it's called), are individual user pages. From there, you have only three options: listen in (by watching), "say something," or "ask a question."