North America's most substantive solar energy + economic development + environmental stewardship event will be extra-newsy in its 2022 edition arriving at the Altria Theater in Richmond, VA April 27 & 28, with double its normal in-person networking activities also planned.

RICHMOND, Va. - April 19, 2022 - PRLog -- The most constructive solar development conference on the planet, the 2022 Virginia Solar Summit (VSS22), is assembling an exceptional diversity of 70+ energy, environment and economic development experts, including elected representatives, appointed officials and agency staff participating in a critical path solar development program enriching for novices and experts alike over 2+ extremely engaging and activating days of learning and exceptional networking opportunities April 27 & 28 at the historic Altria Theater in Richmond, Virginia.

VSS22 attendees can expect as robust an educational program on energy, economy and environment as can be engaged anywhere, with excellent feature, plenary and topical sessions. Well-timed breakouts will feature private industry's most capable professionals sharing best practices and numerous agency staff giving up-to-the-minute guidance in nuts & bolts Q&A's, including from: the Virginia Department of Environmental Quality (DEQ), the Virginia Department of Energy (Energy), the Virginia State Corporation Commission, the U.S. Environmental Protection Agency and the U.S. Department of Energy.

In addition to these first-class live-learning sessions, attendees can also look forward to the following news-making events only happening at VSS22:
First public release of results from the Virginia Solar Survey, a cooperation between Virginia Energy and the Virginia Solar Initiative at the Weldon Cooper Center for Public Service at UVA.
Keynote luncheon remarks from Delegate Terry Kilgore, Majority Leader of the Virginia House of Delegates, thought leader and long champion of Southwest Virginia, with his latest legislative updates and policy insights.
Plenary regional policy panel featuring Delegate Evan Hansen of the West Virginia House of Delegates, Ron Butler of Conservatives for Clean Energy - Virginia, Melissa Alfano of the Solar Energies Industry Association, and more.
Featured luncheon remarks from new Virginia DEQ Director, Mike Rolband, with fresh perspective on the agency's essential work for an enduring economy and environment in the Commonwealth.
Featured plenary remarks from U.S. EPA Region 3 Administrator, Adam Ortiz, with timely and important insights into the bipartisan infrastructure bill and its enormous boost for energy development, and brownfield and brightfield redevelopments.
Plenary "renaissance" panel featuring Virginia Energy Deputy Director, Will Clear, Chelsea Jenkins, Deputy Secretary of Commerce and Trade, and Will Payne, Managing Partner at Coalfield Strategies and Director at InvestSWVA, in an inspiring and forward-looking "big ideas" discussion.
Updated guidance from agency staff re regulations, programs and permitting, including a breakout session featuring Virginia DEQ Office of Stormwater Manager, Erin Belt.
Introducing the new Executive Director of CHESSA, Stephanie Johnson, in her first public remarks in the role.
Introducing new Partner at Wire Gill, Ann Neil Cosby, leading an important breakout session on local issues in solar development with Chris Gordon of EDF Renewables and Skyler Zunk of the Virginia Land & Liberty Coalition.
First public preview of a new public site mapping tool built by Virginia DEQ.
First-of-its-kind event for school property to connect with multiple solar developers to explore project viability.
One-of-a-kind open networking event connecting potential (non-residential) sites with solar developers to promote project discovery, free for anyone with a site.
In addition, extra networking functions & meeting spaces at VSS22 will make up for time lost to the pandemic and reconnect 400-1000 expected attendees in what promises to be 2022's most meaningful solar development event the region.

Learn more and register at VirginiaSolarSummit.com.

Sit a potential (non-residential) solar project in the Solar Exchange and receive complimentary +2 registration to attend the entire conference.

Photos: (Click photo to enlarge)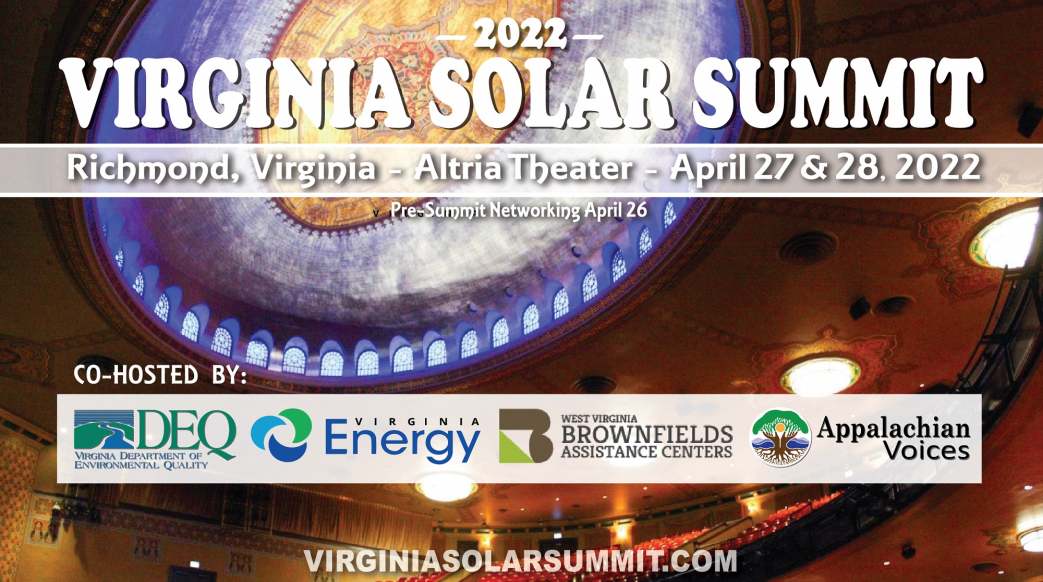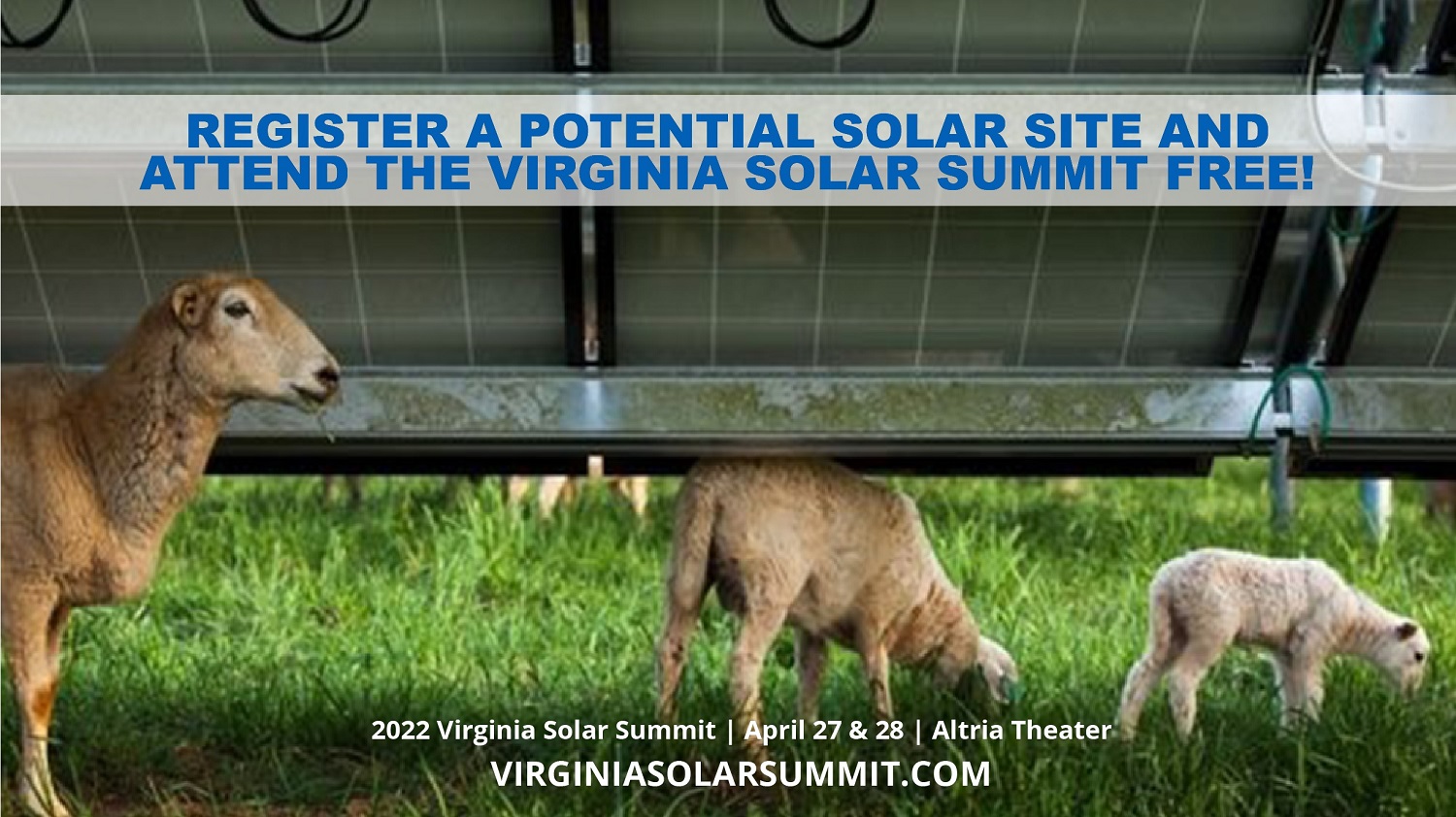 Read Full Story - Newsy Virginia Solar Summit will Feature Numerous Firsts, Releases, Reveals & Real-Time Updates | More news from this source

Press release distribution by PRLog