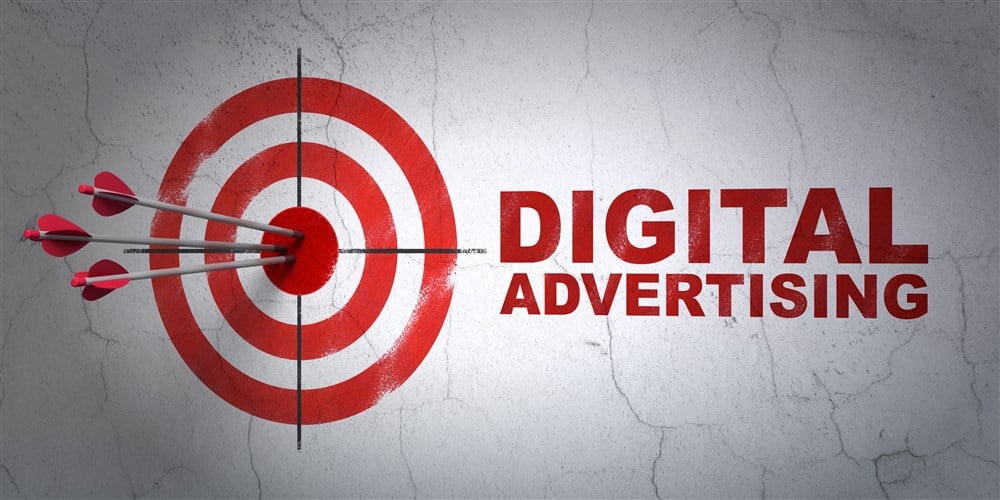 Higher engagements grow revenues: This maxim applies to many things in the digital economy, including digital advertising.
It also applies to rideshare and food delivery, as illustrated by Uber Technologies Inc. (NYSE: UBER) and its daily active users (DAUs). Daily active users generate higher revenues from customers, including passengers, riders, diners and shoppers.
However, that maxim wears thin in social media and gaming. Two companies have experienced double-digit engagement rates as monthly active users (MAUs) grow, but revenues slide, meaning more people use the platform but spend less.
Rise of the Trick-or-Treaters 
These users are known as trick-or-treaters. Like convention attendees, they only show up to collect as much free promotional merchandise as possible and walk away. In the context of MAUs, trick-or-treaters use the service for free, but refuse to upgrade or pay.
Two stocks have experienced  opposite engagement and revenue trajectories: Roblox Inc. and Snap Inc.  Note that teens and tweens use both platforms, two demographics that have considerably less spending power than their parents.
Roblox Inc.
Roblox Inc. (NASDAQ: RBLX) is an online social gaming platform where users can engage with each other, create games and play games made by other users. It's a free platform that is very popular with young people. However, users can pay to buy in-game items and gain more access privileges and features.
Talk about a platform made for trick-or-treaters.Nearly 80% of Roblox players are 16 years or younger. The avatars and worlds are blocky pixels resembling virtual Legos commonly associated with games like Microsoft Co. (NASDAQ: MSFT)-owned Minecraft. Millions of games, various user groups and events range from concerts to tournaments. Its Q2 2023 earnings report showed impressive metrics.
MAU and Engagement Growth 
Roblox reported a second-quarter 2023 loss of 46 cents per share, missing the 44 cent-per-share consensus analyst expectations by 2 cents. Bookings rose 22% year-over-year (YoY) to $780.69 million, which also missed analyst expectations of $784.99 million.
However, the growth metrics are impressive. Average daily active users (DAUs) rose 25% YoY to 65.5 million. Average monthly unique payers rose 19% YoY to 13.5 million. Hours of engagement increased by 4% to 14 billion hours. Average bookings per DAU (AVPDAU) dropped 3% YoY to $11.92. Users played more and spent less than they did a year ago.
Learn more about Roblox analyst ratings and price targets on MarketBeat.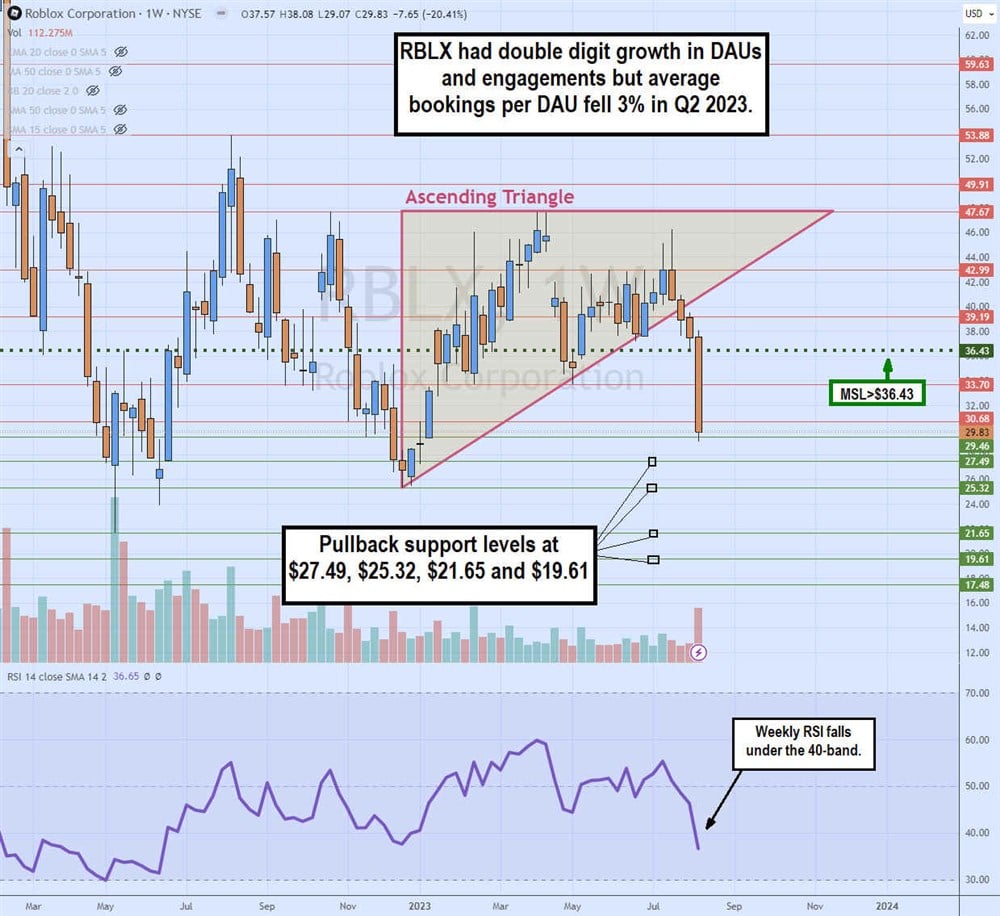 Weekly Ascending Triangle Breakdown
Before its Q2 2023 earnings release, RBLX appeared to form a bullish weekly ascending triangle with a flat-top resistance at $47.67. RBLX had an ascending triangle trendline representing the higher lows on pullbacks after forming the weekly market structure low (MSL) breakout through the $36.43 trigger.
Unfortunately, the weak guidance caused shares to collapse under the ascending trendline and fall out of the triangle pattern. The weekly relative strength index (RSI) reversed down through the 40-band. Pullback support levels are $27.49, $25.32, $21.65 and $19.61.
Snap Inc.
Social media platform Snap Inc. (NASDAQ: SNAP) operates the Snapchat platform where users share images, videos and messages that disappear. Users can chat with each other and share their stories through photos and videos. Unless you join the four million users paying a monthly Snapchat+ subscription, it's a free platform..
The largest age group is between 18 to 24 years old, making up 39% of its audience. Snap collects most of its money from advertisers. Higher user engagement statistics equate to higher revenues. Still, Snap recently changed its ad pricing model, which resulted in a short-term dip but potentially long-term improvement in ad revenues.
Rising DAUs, Falling ARPU 
In Snap's Q2 2023 earnings report, the company reported a 2-cent EPS loss while revenues fell 3.9% YoY to $1.07 billion. It saw MAUs surge 14% to 397 million. Its TikTok competing short video service grew active users by 51% YoY to 400 million. 
Unfortunately, the average revenue it receives per user (ARPU) shrank 14% in its biggest market North America to $6.83, down from $7.93 in the year-ago period. Europe had a 2% YoY ARPU drop to $1.93 from $1.98, while the rest of the world (ROW) ARPU rose 3% to 98 cents. Its adjusted gross margins also sank to 54% from 61% in the year-ago period.
Learn more about Snap analyst ratings and price targets at MarketBeat.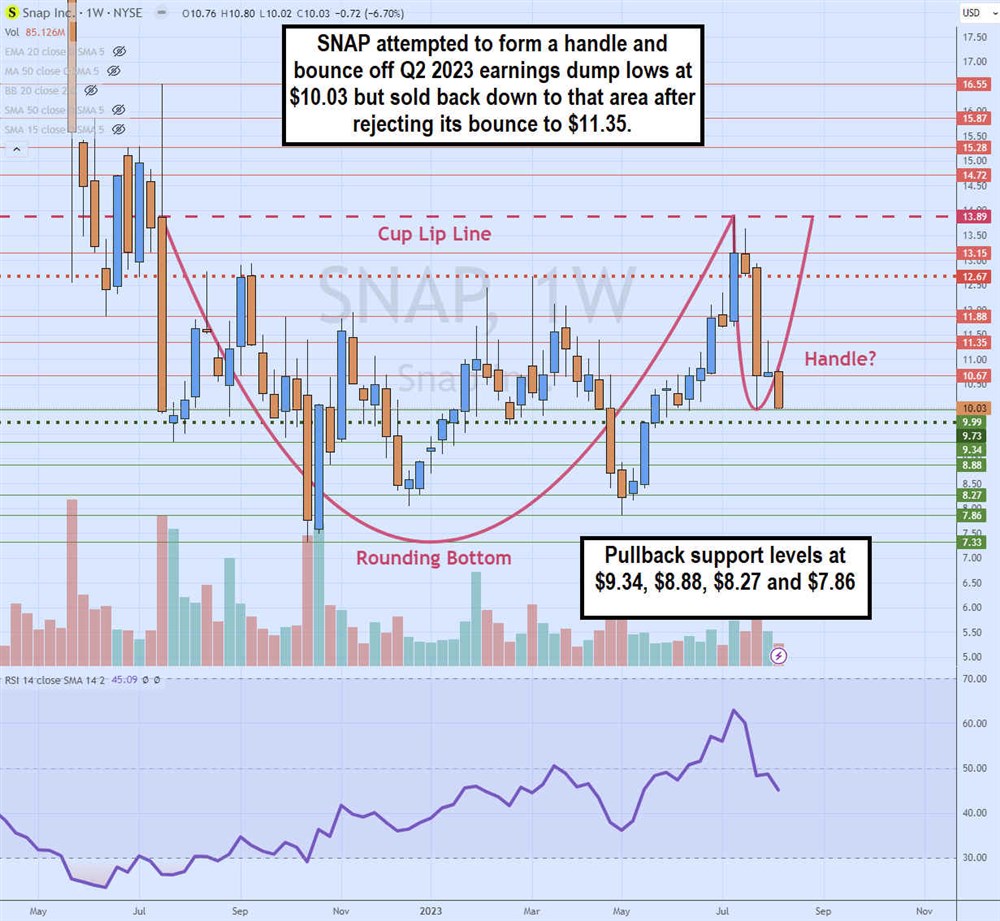 Weekly Rounding Bottom and Cup Formation 
The SNAP weekly candlestick illustrates the cup formation as shares formed a rounding bottom to recover back to the cup lip line at $13.89 in July 2023. SNAP collapsed on its Q2 2023 earnings reaction falling to a low of $10.03 to form the handle presumably. Its bounced attempt was short-lived as shares fell back to retest the handle low. 
The weekly RSI is accelerating lower under the 50-band. The cup and handle can still form if SNAP can hold its ground above the weekly market structure low (MSL) trigger at $9.99. Pullback supports are at $9.34, $8.88, $8.27 and $7.86.