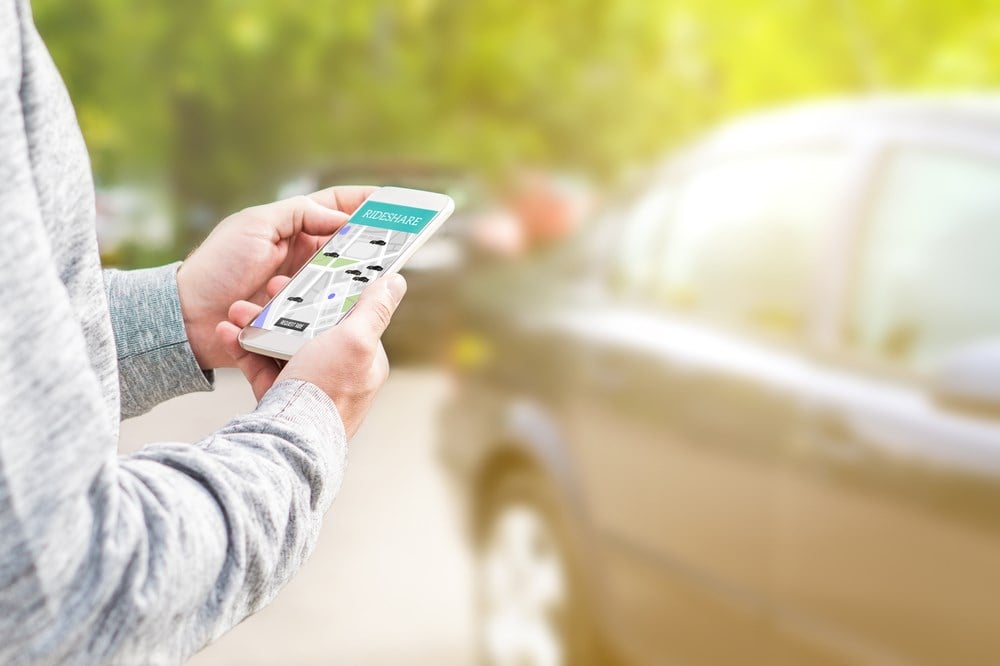 The rideshare war is over, and rideshare network operator Lyft Inc. (NASDAQ: LYFT) has fallen to a distant number two in this duopoly. While critics slammed Uber Technologies Inc. (NYSE: UBER) for its food delivery business and international expansion, Lyft maintained that it was the "pureplay" in ridesharing. This distinction kept the Lyft stock price afloat at over $40 until COVID-19. The benefit of being a one-dimensional player putting all eggs into one transportation basket became a drawback during the pandemic. With the world under lockdown, Uber thrived with its Uber Eats food delivery business. At the same time, Lyft continued to bleed cash amid a revenue meltdown as commuters and workers stayed home, which bolstered casual and athleisure wear sales.
Lyft's Failure
Lyft tried to paint lipstick on a pig, but the market saw through it. Its last earnings report was so bad that the market punished shares with a 30% haircut. The "good guy" image and fist bumps aside couldn't save Lyft from shooting itself in the foot. Lyft has historically been a late mover and follower behind Uber. Its stinginess in driver promotions has cost it problems on the supply side while the passenger demand side continues to migrate towards Uber. The blame goes solely into the hands of its leadership. The question is whether new leadership can bring Lyft back from the dead.
New CEO Announced
On March 27, Lyft announced that board member David Risher would talk the helm as CEO, replacing Logan Green, effective April 17. This sent shares 5% higher but was short-lived when Risher announced that the company was not looking to sell itself and would remain independent.
The speculation and hope were that Lyft CEO Logan Green would step down in anticipation of being acquired, but that rumor decreased as shares collapsed again. Risher, a Princeton and Harvard Business School alumnus, was a former head of product and U.S. retail at Amazon.com Inc. (NASDAQ: AMZN). Before that, he was a general manager at Microsoft Co. (NASDAQ: MSFT). Risher has been a Lyft board member and co-founded Worldreader, a nonprofit organization promoting digital reading. 
Network Effect Nonexistent at First
Many considered the rideshare business "non-sticky," meaning the network effect couldn't stick since passengers and drivers would migrate toward whichever brand had better promotions. Brand loyalty was not possible since passengers rarely got the same driver twice. Uber changed that by adding more verticals like food and grocery delivery, e-bikes and e-scooters and various ride options. Its name became a verb describing ordering a ride from an app to drive you somewhere.
Usually, a customer will stick with one brand, as habits are hard to change. The drivers are independent contractors whose loyalties lie in which company they will make more money from consistently. During the pandemic reopening, both companies faced severe driver shortages. Lyft had the opportunity to bolster its driver base, but Uber outspent the company on promotions, purportedly spending an additional $250 million in bonuses to get drivers back on the road. Lyft gave out fist bumps, and it bit them hard.
Can Lyft Win Back Market Share?
While many commuters have decided on Uber as their primary rideshare provider, Lyft can win back some market share by digging deep into its pockets and promoting Uber. The company can offer drivers higher payouts by raising its per-mile payout and bigger promotions to sway the supply side and offer riders cheaper rides and more promotions to build the demand side. This is familiar territory, as both Uber and Lyft were engaged in a costly race to the bottom with pricing during the early days. Now that Uber has won the war, it is constantly raising prices to the detriment of riders, yet not paying more to drivers. Lyft can return to selling a $5 hamburger for fifty cents, while Uber charges $8.
Price War, New Verticals, Acquisition? Nope.
A price war is a logical way to win back some market share. Many drivers are signed up for both Uber and Lyft anyway. Unfortunately for Lyft, Uber has much bigger pockets and is growing at a 30% clip, so a price war would be to Lyft's detriment and one they could only sustain for a short period. Lyft's new CEO even pointed out in a letter that he can "do more with less," running his nonprofit for 13 years, which may imply cost-cutting measures to come. Lyft has proven itself nonprofitable, too. If cost cuts come from the driver side, its driver supply will further dwindle. 
He doesn't seem to favor spending more money on a price war or putting Lyft up for sale, and the "primary focus will be rideshare," implying no new verticals. It seems he's already boxed himself in, but time will tell.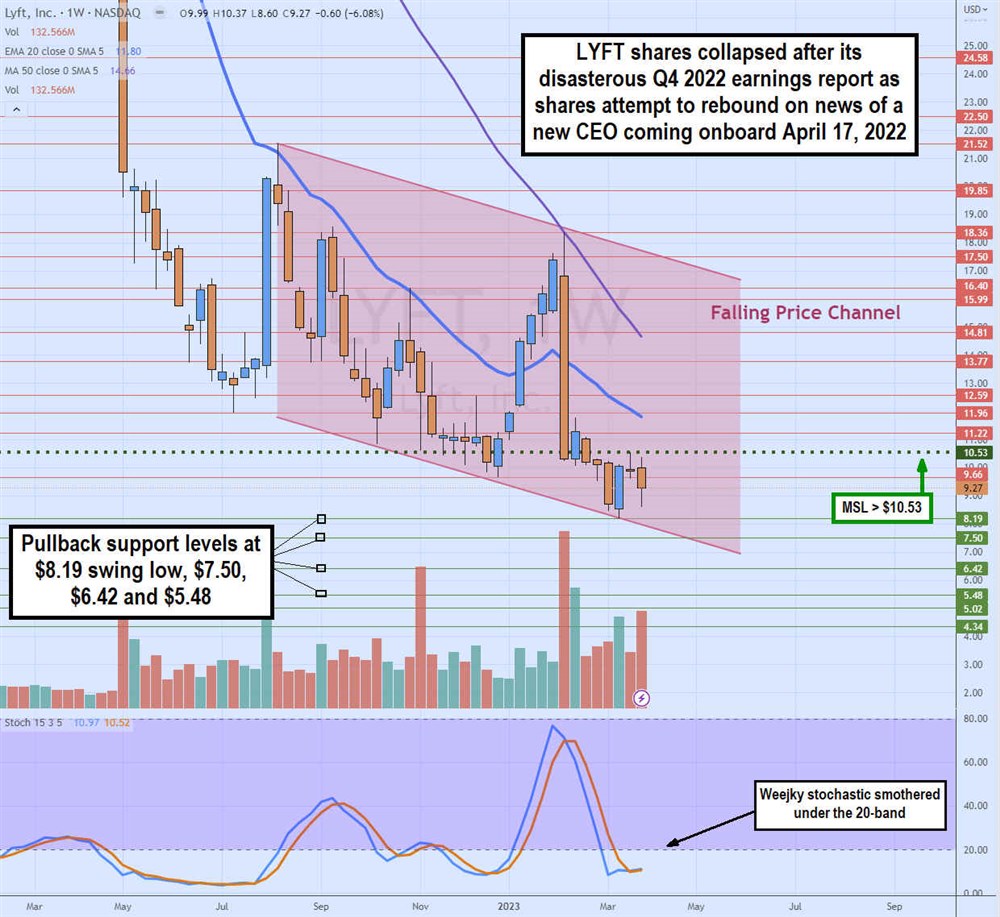 Weekly Falling Price Channel
After falling to a swing low of $9.66 in December 2022, LYFT shares surged higher for seven straight weeks to $18.36 on speculation of being acquired, only to cliff dive on its fourth-quarter 2022 earnings report. Shares collapsed under the weekly market structure low (MSL) at $10.53 and fell to a new swing low of $8.19. The weekly candlestick chart on LYFT illustrates its weekly falling price channel, formed by parallel lower highs and lower lows. 

The weekly stochastic has fallen under the 20-band and continues to get smothered under it. The weekly 20-period exponential moving average (EMA) resistance decreases at $11.80, followed by the 50-period MA resistance at $14.66. Pullback support levels are $8.19, swing low, $7.50, $6.42 and $5.48.