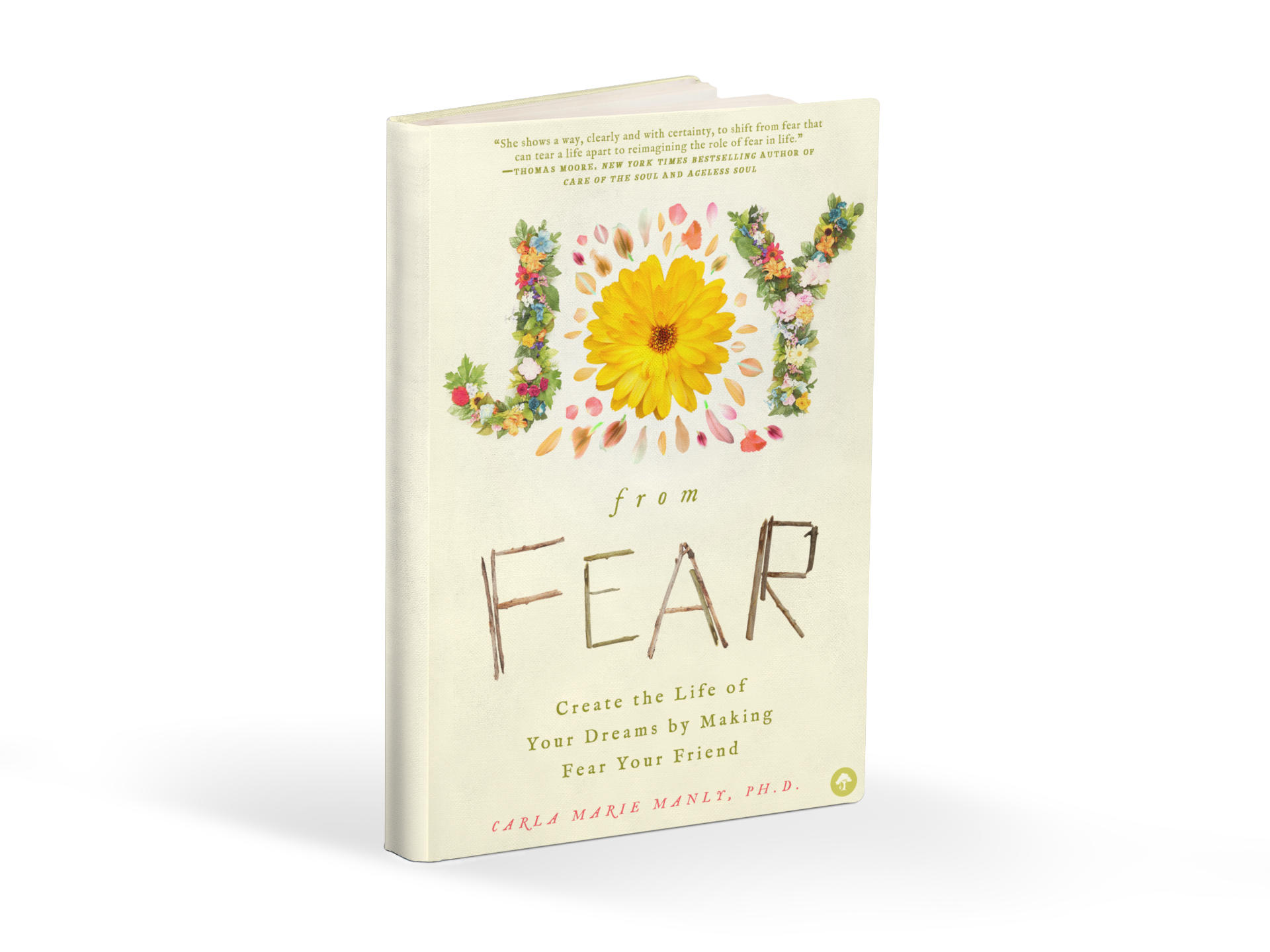 Clinical psychologist and wellness expert, Dr. Carla Marie Manly, has developed a revolutionary approach for fostering self-love, self-awareness, and positive habits: embracing fear.
Joy from Fear: Create the Life of Your Dreams by Making Fear Your Friend is an empowering guidebook to genuine self-discovery and deep self-love. Humans are hardwired to regard fear as a destructive, negative force that fuels depression and dysfunction. When people fail to listen to their fears, they inevitably pay a high price: anxiety, damaged relationships, stress, depression, addiction, and more. But, in reality, fear is an ally and friend. As readers learn to tune into fear and listen to its messages, the combination of fear and awareness can create immense transformational change — and a life of lasting fulfillment.
"Through years of research and analysis, I discovered that fear is at the root of many of our struggles. From mental health issues to relationships gone awry, my findings showed that fear — when faced with wisdom — can immeasurably transform our lives," says Dr. Manly. As a practicing clinical psychologist, trauma expert, wellness advocate, podcaster, and successful author, Dr. Manly comes with extensive experience in the realm of self-help. In writing Joy From Fear, her goal was to help readers embrace fear as a force for personal empowerment and creation of an extraordinary life. "Having used the concepts in Joy from Fear to quite literally transform and save my own life, I wanted to bring all that I had learned into the lives of readers."
In her seminal book, Dr. Manly walks readers through the process of identifying the subtle ways that fear makes its way into our lives and how destructive fear can mask one's vision and cause people to lose sight of themselves. She then shows readers alternative ways to respond to fear. Dr. Manly provides real-life examples and explanations grounded in science that takes readers on a journey to understand fear as a profound asset. Readers come to see their fears not as a litany of negatives; but as a distinct messaging system that gives voice to their inner needs and dreams.
Packed with insights, easy-to-use tools, and life-changing exercises, Joy from Fear addresses the hectic routines of modern living and supplies a range of strategies for conquering anxiety, deep-seated worries, and doubts. Written for the 21st century, the book includes sections centered on ways to disconnect from technology and reduce its hold on children and adults. It serves as a compassionate roadmap for releasing negative energy, realizing untapped potential, and moving toward a life of freedom and happiness.
Joy from Fear has been endorsed by well-known experts, authors, and reviewers from around the world. New York Times bestselling author, Thomas Moore writes "[Manly] shows a way, clearly and with certainty, to shift from fear that can tear a life apart, to reimagining the role of fear in life." Psychologist Dr. Michael White writes, "Joy from Fear is a tremendously empowering book of reflection and discovery. Dr. Manly's warm, genuine style invites the reader to engage in practices that nurture joy…it shows you how to get more of what you want from life."
Joy from Fear is available through Amazon, Barnes & Noble, and other book retailers. Readers looking to create lasting happiness and fulfillment by using fear as a force for good are encouraged to purchase a copy today.
About the Author
Dr. Carla Marie Manly is a clinical psychologist and wellness expert based in Sonoma County, California. In addition to her clinical practice, Dr. Manly is deeply invested in her roles as an author, consultant, advocate, speaker, and podcaster. Embracing a holistic body-mind-spirit approach, she specializes in improving professional and personal relationships through self-awareness, mindfulness, and healthy communication skills. Viewing self-development as the foundation for optimal wellness, Dr. Manly's work focuses on building healthy intrapersonal and interpersonal relationships through increased intrapersonal and interpersonal awareness. Her work blends traditional psychotherapy with alternative mindfulness practices to support inner freedom, awareness, and balance. Dr. Manly's latest book, Date Smart: Transform Your Relationships and Love Fearlessly, joins her other acclaimed titles, Joy from Fear: Create the Life of Your Dreams by Making Fear Your Friend, and Aging Joyfully.
Connect with Carla Marie Manly, Ph.D. on Social Media:
Website: https://drcarlamanly.com/ 
Instagram: https://www.instagram.com/drcarlamanly/
Twitter: https://www.twitter.com/drcarlamanly
Facebook: https://www.facebook.com/drcarlamanly
LinkedIn: https://www.linkedin.com/in/carla-marie-manly-8682362b/
Media Contact
Company Name: Author News Network
Contact Person: Media Relations
Email: Send Email
Country: United States
Website: authornewsnetwork.com