Available in a variety of sizes and materials, the 'Dancing Disc' is the ultimate product for dance professionals and dance enthusiasts.
United States - September 28, 2023 —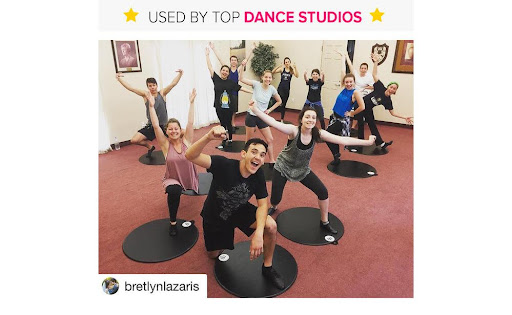 From schools to dance stars, the 'Dancing Disc' is the innovative practice tool adored by dancers for use at home, in the studio, or on the go. This best-selling disc now debuts itself on multiple online platforms, including its official website, Amazon, Etsy, and Walmart.
Expanding Across Multiple Online Platforms
Dancing Disc is an innovative and exhilarating accessory making waves across the dance community. The company is now expanding onto major online platforms, making it easier than ever for dance enthusiasts to access this revolutionary product. With Dancing Disc now available on Amazon, Etsy, Walmart, and its official website, shoppers can indulge in the Dancing Disc phenomenon online like never before.
Speaking to a company representative, "Our mission at Dancing Disc has always been to empower dancers of all levels, no matter where they are or what their goals may be. The Dancing Disc was designed with the thought of providing a versatile tool for dancers to practice and refine their skills at home, in the studio, or even while traveling. We believe that every dancer, from beginners to professionals, deserves the opportunity to enhance their style and performance, and the DDisc is here to make that possible. Expanding onto major online platforms is a significant milestone and part of our goal to make Dancing Disc accessible to dancers around the world."
This expansion into multiple online channels demonstrates Dancing Disc's commitment to reaching dancers where they prefer to shop. The availability of major e-commerce platforms like Amazon, Etsy, and Walmart ensures customers have easy access to authentic Dancing Disc products.
With Dancing Disc now in stock online, shoppers can take advantage of the convenience and reliability offered by these well-established online marketplaces. This expansion allows dancers to access this must-have accessory from their favorite online sales channels. 
Perfect For Any Dancer
Dancing Disc has quickly gained recognition as a must-have accessory for dancers of all levels. Its unique design, which allows for seamless turning, spinning, and pivoting without investing in expensive specialized floors or a dance studio, has made it a favorite among dancers looking to improve their technique, balance, and style. Whether a ballet dancer perfecting their pirouettes, a tap dancer looking to enhance their rhythm, or simply someone who enjoys dancing for fun, Dancing Disc helps elevate the experience.
From Premium Marley floor dancing discs to various available sizes for different requirements, the Dancing Disc team is committed to facilitating their audience to the best of their abilities. The company stands by the quality of its products with a 1-year craftsmanship warranty. 
Furthermore, due to its professional-grade products, Dancing Disc has been embraced by top dance studios and stars, including the likes of Jojo Siwa and Sophia Lucia, highlighting its credibility in the dance community. The exceptional reviews also speak volumes about the satisfaction of their customers. With a remarkable 4.8/5 rating based on 1,122 reviews, it's clear that Dancing Disc has won the hearts of dancers worldwide.
Conclusion 
Dancing Disc is a groundbreaking dance accessory that enhances the dance experience for enthusiasts of all levels. With its innovative design, it allows dancers to execute turns, spins, and pivots with ease, improving technique and style. Dancing Disc is now available on major online platforms, including Amazon, Etsy, Walmart, and its official website, making it easily accessible to dancers worldwide.

Contact Info:
Name: Dancing Disc Team
Email: Send Email
Organization: Dancing Disc
Website: https://dancingdisc.com

Release ID: 89108643
If you come across any problems, discrepancies, or concerns related to the content contained within this press release that necessitate action or if a press release requires takedown, we strongly encourage you to reach out without delay by contacting error@releasecontact.com. Our committed team will be readily accessible round-the-clock to address your concerns within 8 hours and take appropriate actions to rectify identified issues or support with press release removals. Ensuring accurate and reliable information remains our unwavering commitment.