$MT to be listed at Kanga Exchange on September 26
Poland, Warsaw - September 24, 2023 —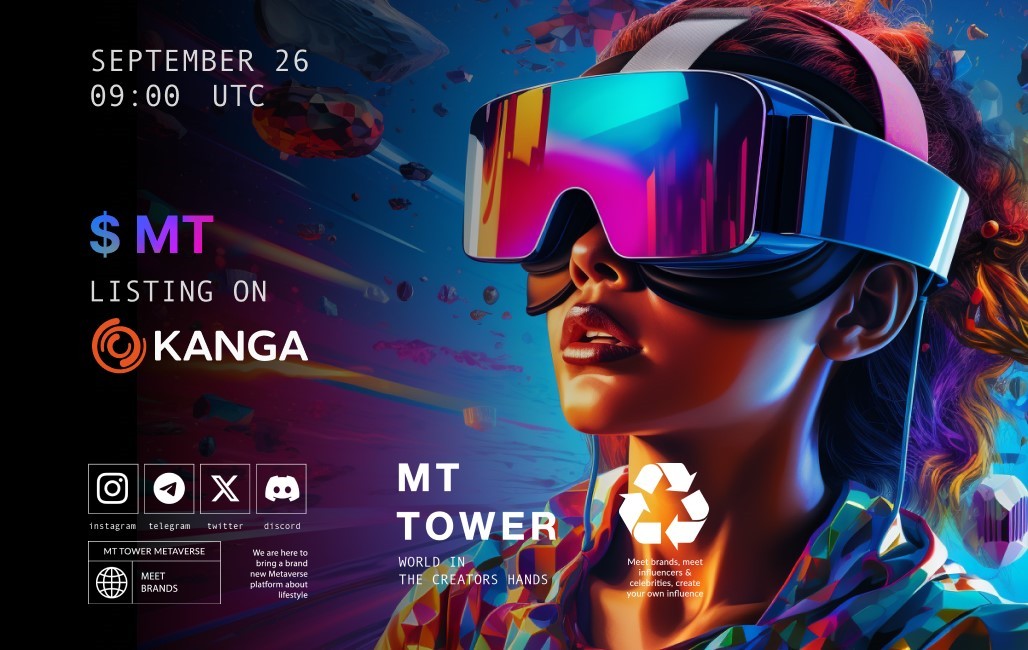 Meta Tower, an avant-garde player in the blockchain sphere, is thrilled to unveil its strategic plan for the imminent listing of $MT on Kanga Exchange, set to go live on September 26. This momentous step underscores Meta Tower's dedication to advancing Social Media 3.0 and propelling the globe into the metaverse.

In the lead-up to the listing event, Meta Tower is reaching out to blockchain aficionados, adept social media connoisseurs, and lifestyle influencers keen on engaging their target audience and nurturing robust connections with the brand, its vision, and its devoted team.
Meta Tower's accomplished team has initiated a community airdrop to cultivate awareness, foster positive word-of-mouth, and enhance visibility within the lifestyle and gaming metaverse, celebrating this noteworthy listing. Participants now stand a chance to win prizes denominated in $USDT and $MT for actively immersing themselves in the MT ecosystem. Beyond the allure of awards, this initiative aims to educate the broader populace about the metaverse and blockchain, prompting them to delve into MT Tower and acquire profound insights into its pivotal role in shaping the future of social media.

Currently, MT Tower is amidst a highly successful final round of its MT Token presale, rendering this a propitious moment to unveil this engaging program. Meta Tower, as it gears up for its imminent listing on a centralized exchange and maintains its steadfast commitment to realizing its outlined roadmap, seamlessly aligns the integration of this initiative with the company's overarching objectives. Prospective individuals with keen interest are encouraged to reach out to Meta Tower through the official channels for further inquiries or to partake in this engaging initiative.

About Meta Tower: Meta Tower is a lifestyle and gaming platform that empowers individuals to forge new social connections, engage with brands, and construct their world, sharing it with a global community inside and outside the metaverse. Users can unleash their creativity beyond real-world limitations with various customization tools. Leveraging content generated within MT Tower, users navigate life as Virtual Influencers across various social media platforms.

In response to the demands of our discerning audience seeking an innovative platform revolutionizing cultural, virtual, artistic, brand, and interpersonal engagement, Meta Tower emerges as the quintessential space. Within virtual interactions, the Metaverse, we envision an expansive domain transcending conventional social media platforms. Meta Tower uniquely addresses these desires through tokens, entertainment, and immersive experiences, providing a distinctive avenue for self-expression and meaningful connections in the metaverse.
"We aim to break the rules of traditional social media. Most platforms today follow the same rules and ideology, and we want to take people to a new, cultured, and artistic virtual social platform to be the creators of their own fame and influence." – Igor Łukasik, CEO of MT Tower.

As the countdown to the $MT CEX listing on Kanga Exchange continues, Meta Tower remains steadfast in its mission to redefine social interactions and media consumption. The upcoming listing is a testament to Meta Tower's commitment to shaping the metaverse landscape and opening up new realms of possibility for its ever-growing community. Stay tuned for this exciting milestone and the promising future that lies ahead.

Website: https://www.metatower.com/
Airdrop: https://zealy.io/c/mttower/questboard
Twitter: https://twitter.com/mt_tower

Contact Info:
Name: Igor Łukasik
Email: Send Email
Organization: Meta Tower
Website: https://www.metatower.com/

Release ID: 89108355
If you encounter any issues, discrepancies, or concerns regarding the content provided in this press release, or if there is a need for a press release takedown, we urge you to notify us without delay at error@releasecontact.com. Our expert team will be available to promptly respond within 8 hours – ensuring swift resolution of identified issues or offering guidance on removal procedures. Delivering accurate and reliable information is fundamental to our mission.